This blogpost also is available in German.
Today I have something extra special for you, namely cabbage wraps on a saffron sauce. This recipe is a collaboration with "La Cucina Tee- und Gewürzhaus in Bern", which is quite a huge honor for me, as it is my favorite store in terms of spices and tea, some of you might already know that from previous posts here. They only sell high quality products and lot`s of them are organic as well. If you are on the search for fancy and rare spices, you can most definitely find them there. When I was looking for ajowan, smoked paprika, smoked salt, chipotle and piri piri, I always made a strike at "La Cucina Tee- und Gewürzhaus in Bern".
But this time the star of the following recipe isn`t any of the above mentioned ones, but rather first-class saffron from the province Herat in Afghanistan. Once again a top-quality product with a superb taste. On that note I want to send many thanks to the team at "La Cucina Tee- und Gewürzhaus in Bern" for sending me this exquisite product, I can absolutely recommend it.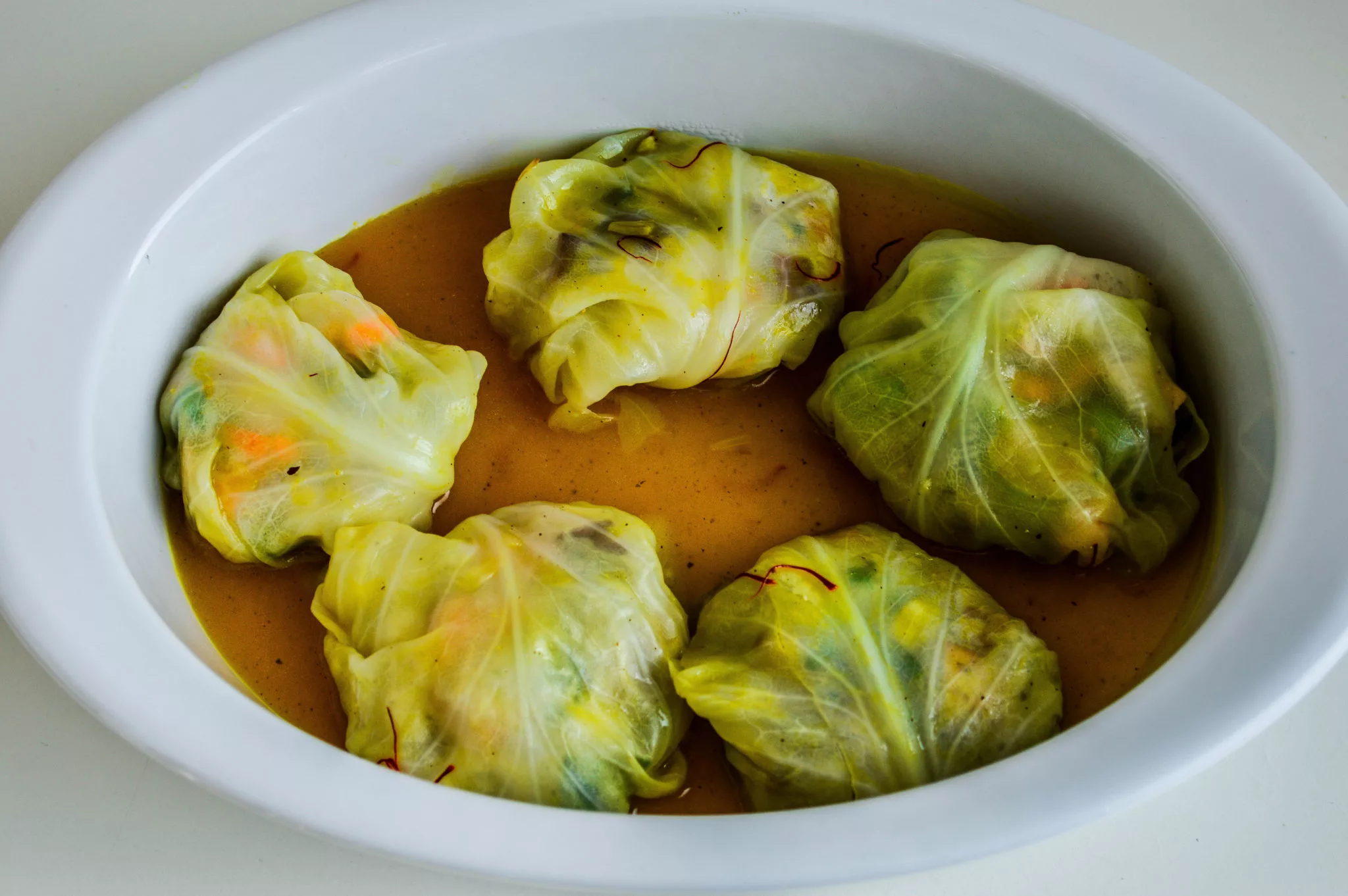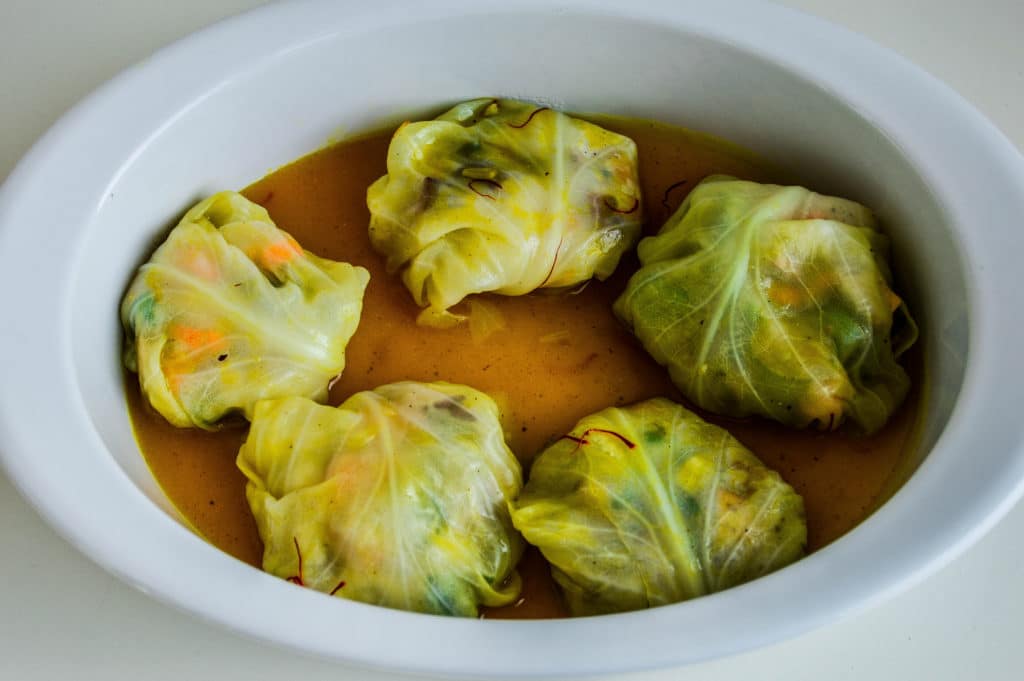 Besides the traditional risotto milanese, there are a bunch of other delicious dishes you can create with saffron. The one and only important thing to keep in mind when cooking with saffron is to let it be the center of attention, as you don`t want to tamper with it`s flavor component. In that case I highly advise to not use any other spices – except salt and pepper – if you want to enjoy the whole taste spectrum of this yellow gold. That`s the main reason why I kept it simple for this recipe. You only need seasonal veggies of your choice, cabbage leaves and smoked tofu. Equally important is the dosage of saffron, as this spice comes with it`s own special flavor. If you add too much saffron to a dish you will get a medicinal taste. So it is always better to start with a small amount and then add some more if necessary. Using high-quality saffron is another important point, the result will be much better as well as the taste experience. Now let`s move on to the recipe.
Ingredients (for 2 persons):
1 pointed cabbage
150g smoked tofu
1 carrot, organic
1 leek, organic
1 turnip, organic
2 pressed garlic cloves, organic
2 tbsp olive oil
1 tsp salt
1 tsp black pepper, freshly ground
app. 20 toothpicks, alternatively kitchen string
1 onion, organic
1 tbsp sunflower or canola oil
150ml white wine
100ml water
1 tsp vegetable stock powder
2 1/2 tsp corn starch
5 tbsp water
1 tsp saffron, you can find this product online shop La Cucina
Preparation:
Rinse off carrot, leek and turnip. Peel carrot and turnip, then cut all the veggies into small pieces/cubes.
Drain tofu and cut into small pieces.
Pour olive oil into a frying pan, heat and add veggies, tofu, garlic, salt and pepper. Fry until tofu is turning brownish (app. 5 to 8 minutes).
Carefully remove cabbage leaves. Rinse off leaves and blanch for maximum 2 minutes in boiling water. Drain off water and immediately put cabbage leaves into an ice bad or rinse them off with cold water to stop the cooking process. This step is highly recommended as it will make the wrapping process later on way more easier.
Put one tbsp of the veggie tofu mixture in the middle of a cabbage leave and wrap the leave. Use toothpicks or kitchen string to prevent the wraps from opening.
Peel and finely chop the onion. Pour sunflower or canola oil into a pan and heat. Sauté chopped onion until translucent.
Deglaze by adding the white wine and water. Also add vegetable stock powder and saffron and let simmer at medium heat.
Mix corn starch together with the water and pour the mixture into your saffron sauce. Mix very well. Add cabbage wraps and let simmer at low heat for another 3 minutes. If you like you can sieve the saffron sauce before adding the wraps to remove the onion.
Ok, I am going to be honest with you, the wrapping process needs a little bit of practice and time, but it`s definitely worth it. A thoroughly delicious vegan recipe, which is a perfectly nice dish for your next dinner party, due to the vibrant color and the aromatic-tangy flavor of the saffron.
Read you soon,
Sarah
Information: This is a sponsored post!