Dieser Blogpost ist auch auf Englisch verfügbar .
WEIHNACHTEN, eine Woche vor uns! Sind Sie bereit? Baumgeschmückter Scheck, alle Kekse backen, alle Geschenke kaufen und einpacken, Scheck, Weihnachtsmenü-Scheck! Warte, oh schieß! Vergessen zu planen, was Sie an Weihnachten kochen sollen? Kein Problem, ich habe es für Sie übernommen. Mit diesem Drei-Gänge-Menü verhungert bei Ihnen in den Ferien niemand. Und rate was? Die Gerichte sind nicht nur super einfach zuzubereiten und sehr lecker, sondern auch komplett vegan!
Wenn Sie bereit sind, gehen wir die verschiedenen Kurse durch. Die Rezepte zum Ausdrucken findest du wie immer unten, also falls du nur nach einem bestimmten Gericht suchst oder nicht so gerne liest, spring einfach direkt ans Ende dieses Beitrags.

Anlasser:
Wie wäre es mit veganen Lachstoasts als Vorspeise? Soweit ich zurückdenken kann, haben meine Eltern und ich am 24. Räucherlachs-Toasties gegessen. Ärger beginnt, wenn jemand in der Familie Veganer wird *lol*. Zumindest dachte ich das, bis ich letzten März jemanden auf YouTube sah, der dieses Gericht veganisierte. Verzweifelt machte ich mich auf die Suche nach Flüssigrauch – DIE Hauptzutat – konnte ihn aber nirgends finden. Irgendwann vergaß ich veganen Lachs, aber erst vor ein paar Wochen sah ich, wie er wieder in den sozialen Medien auftauchte. Die Mission war geboren und glücklicherweise fand ich dieses Mal etwas flüssigen Rauch. Deshalb stelle ich euch hier meine veganen Lachstoasts vor, die buchstäblich nach echtem Lachs schmecken! Auf der anderen Seite müssen die Karotten ein oder zwei Tage im Voraus zubereitet werden, denken Sie daran.

Hauptkurs:
Auch beim Hauptgang halten wir es traditionell. Auf der Speisekarte stehen Grünkohlsalat mit Granatapfel und Radieschen, Kartoffelpüree mit Champignon-Stroganoff, gerösteter Rosenkohl und frittierte Pimientos de Padrón. Ihre Gäste werden gar nicht wissen, wo sie mit all diesen leckeren Leckereien anfangen sollen. Außerdem verrate ich euch noch ein kleines Geheimnis… Salat, Stroganoff und Rosenkohl lassen sich problemlos im Voraus zubereiten. Natürlich, wann immer möglich, alles frisch aus der Küche servieren, aber wenn nicht, spricht nichts dagegen, ein wenig am Vortag vorzubereiten. Tun Sie es nur nicht für die Pimientos und die Kartoffelpüree! Kartoffelpüree sollte immer kurz vor dem Servieren zubereitet werden und die Pimientos werden matschig, wenn Sie sie zu früh zubereiten.

Nachtisch:
Ihre Gäste sind vielleicht so satt, dass sie wahrscheinlich nicht einmal mehr Platz für ein Dessert haben, aber falls doch, haben Sie mit diesen Mini-Schokoladen-Tartelettes, die mit in Glühwein pochierten Birnen gekrönt sind, etwas im Ärmel. Wie Sie wieder einmal sehen können, halten wir es in Bezug auf die Geschmacksrichtungen sehr traditionell und weihnachtlich. Sind Schokolade und Glühwein nicht perfekt für Weihnachten? Sie können dieses Dessert auch im Voraus zubereiten, das würde ich wirklich empfehlen. Besonders die Birnen, da sie einige Zeit brauchen, um im Glühwein eingeweicht zu werden, um alle Gewürze aufzunehmen. Aber lassen Sie mich Ihnen versichern, es lohnt sich! Ich habe noch nie ein Dessert gegessen, das so sehr nach Weihnachten geschmeckt hat wie diese Mini-Tartelettes!
Soweit zur Vorstellung des Weihnachtsmenüs. Hoffentlich gefällt es euch und probiert es nächste Woche aus! Falls ja, lassen Sie mich wissen, wie das Menü bei Ihren Gästen angekommen ist. Ich freue mich immer über Feedback zu meinen Rezepten.
Viel Spaß und viel Spaß bei der Last-Minute-Planung,
Sarah
Vegan Salmon Toasts
Prep Time
2
days
30
Minuten
Total Time
2
days
50
Minuten
Ingredients
3

carrots

organic

1

tsp

rock salt

organic

2

tbsp

flaxseed oil

organic

2

tbsp

liquid smoke

2

tsp

lemon juice

organic

20

slices

toast bread

organic

200

g

vegan ricotta or horseradish mousse

organic

1

onion

organic

1

glass

pickled capers

organic
Instructions
Peel carrots and steam them for 15 up to 20 minutes. They should be cooked but not too soft. Let them cool down.


Thinly slice the carrots using a sharp knife or a broad peeler.


Mix rock salt, flaxseed oil, liquid smoke and lemon juice together in a closable jar or container. Add carrot slices mix well, close and put in the fridge for at least 24 hours up until 48 hours. Make sure to turn and shake the container/jar from time to time to make sure every carrot slice is covered.


Toast the bread slices using a toaster. Spread some vegan ricotta or horseradish mousse onto the toasted slices. Lay carrot slices on top and arrange them like smoked salmon.


Peel onion and cut into rings. Drape some of them on every toastie and add some capers as well. Serve right away.

Roasted Brussel Sprouts with Cranberries
The recipe actually already is on my instagram, but I`ll share it again here.

Ingredients
500

g

brussel sprouts

organic

2

tbsp

canola oil

organic

1

tbsp

white balsamic vinegar

organic

1

tbsp

maple syrup

organic

3

handful

dried cranberries

organic

a

pinch of

rock salt

organic
Instructions
Preheat the oven at 200 degrees Celsius.


Carefully remove a small part of the brussel sprout stems, cut them in half and rinse them off.


Put brussel sprout halves in a bowl and add all the remaining ingredients. Mix well and pour the them onto a baking sheet with parchment paper.


Put in the oven and roast for 30 up to 40 minutes until the brussel sprouts start to turn slightly brownish.

Pimientos de Padron
Ingredients
200

g

pimientos de padron

2

tbsp

olive oil

organic

1

tsp

rock salt

organic
Instructions
Pour olive oil in a hot pan and heat.


Rinse off pimientos de padron and add them to the pan with the hot oil. Fry them for about 5 to ten minutes, just until the start browning and shrinking a little bit.


Serve immediately and sprinkle on some salt just before you serve them.

Mashed Potatoes with Mushroom Stroganoff
Total Time
1
Stunde
20
Minuten
Ingredients
Mashed Potatoes
1

kg

waxy potatoes

organic

1

tsp

salt

organic

50

g

vegan margarine

300

ml

rice milk

a

pinch of

ground nutmeg

salt to taste

organic
Mushroom Stroganoff
25

g

vegan margarine

1

onion

organic

2

tbsp

flour

organic

100

ml

red wine

organic

300

ml

vegetable stock

organic

100

ml

soy cream

salt & black pepper to taste

organic

125

g

pearl champignons

organic

150

g

pleurotus

organic
Instructions
Mashed Potatoes
Peal the potatoes, put them in a pan and cover with water. Add salt, put the lid on the pan and cook the potatoes for 40 minutes. They should be super soft and easy to mash with a fork. Whilst you cook the potatoes you can prepare the Stroganoff.


Mash the potatoes with a fork.


Melt margarine in the same pan you cooked the potatoes, add the mash and rice milk, cook on very low temperature whilst constantly whisking.


Season with ground nutmeg and add some salt if you feel it`s lacking. Serve right away with the Stroganoff.

Mushroom Stroganoff
Peel onion, finely chop it and add it to the melted margarine. Sautée until they turn translucent. Now you add the flour and mix the margarine and flour very well until the flour turns yellow in color.


Deglaze with red wine, add vegetable stock and soy cream and bring to a boil. Season with salt and black pepper to your taste and reduce the heat to low temperature.


Rinse off mushrooms and add them to the sauce. Cover the sauce and let simmer for about 10 minutes. Then remove the lid and cook for another 10 minutes on very low heat.


Serve together with the mashed potatoes.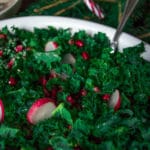 Kale Salad with Pomegranate & Radishes
Ingredients
250

g

kale

organic

1

pomegranate

organic

1

bunch of

radishes

organic

3

tbsp

raspberry vinegar

organic

2

tbsp

canola oil

organic

salt & black pepper, to taste

organic
Instructions
Rinse off the kale & radishes. Coarsely chop kale and slice radishes.


Cut pomegranate into quarters. Fill a bowl with water and put the pomegranate quarters into the water, remove the seeds. The seeds will sink down and the leftover skin of the pomegranate will float on top. Remove that skin and use a sieve to pour off the water and catch all the pomegranate seeds.


Put kale in a bowl and sprinkle over the pomegranate seeds and radish slices.


Mix together raspberry vinegar, canola oil, salt and black pepper and pour the dressing over your salad right before serving it.

Mini Chocolate Tartelettes with Poached Mulled Wine Pears
Prep Time
12
Stunden
40
Minuten
Total Time
13
Stunden
20
Minuten
Ingredients
2

pears

organic

400

ml

red wine

organic

2

tbsp

mulled wine spice

organic

100

g

walnuts

organic

4

dates

organic

2

tbsp

cocoa powder

organic

3

tbsp

water

100

g

dark vegan chocolate

organic

120

ml

soy cream

1

tbsp

coconut oil

organic
Instructions
Peel the pears, put them in a pan and pour over the red wine. Add mulled wine spice. Cover the pan and let simmer on low temperatur for about 20 up to 30 minutes. Make sure to turn the pears from time to time. In the meantime you can prepare the bottom of the tartelettes.


Put poached pears into an airtight container together with the remaining red wine and mulled wine spice. Close the container and put in the fridge for about 12 hours. Make sure to turn the pears from time to time.


Preheat the oven at 180° degree Celsius.


Add walnuts, deseeded dates, cocoa powder and water into a food processor. Mix until you got a batter that sticks together. Put that dough into your mini tartelettes baking forms using your fingers, making sure they cover the whole baking form completely.


Put the mini tartelettes baking forms into the oven and bake for 8 up to 10 minutes. Take them out, let cool down and remove the baking forms.


Heat soy cream and coconut oil in a pan. Break dark chocolate into pieces and pour hot soy coconut mixture over the chocolate. Stir until the whole chocolate melts. Then pour your ganache into your tartelettes. Let the ganache harden.


Take the pears out of the fridge, halve and slice them. Put one half onto every tartelettes.