Butternut squash meets gnocchi, topped with crispy fried vegan sausage and aromatic sage. Ready is our currently favorite comfort dish. Honestly gnocchi are already so irresistible, but gnocchi with creamy pumpkin sauce are super super irresistible!
Jump to Recipe
Print Recipe
Wow guys, 2023 is here, who would have thought it! Are you guys ready for a new year? Full of new resolutions?
I don't want to ramble on here and get down to the nitty-gritty – these pumpkin gnocchi – in a nutshell. Just briefly – for the loyal readers among you, who take the time to read my blog posts, which by the way means an immense amount to me. I have been told, that bloggers with their texts are just annoying, because man / woman only wants the recipe. Anyway, the structure of my blog posts is changing as of today. The texts become shorter with more spice 😝. All the necessary info can be found in the recipe itself under notes. Ciao and back to the gnocchi.
So gnocchi, next to pasta, pizza and Co., are a real comfort food, we can probably all agree on that. But who actually invented, that you can't munch on carbohydrates after New Year's Eve? Hey, I don't want to make any enemies here! Thumbs up for new resolutions and healthier eating. But you still don't need to send these gnocchi with creamy pumpkin sauce into exile until February. By the way, the same goes for Taco pizza and pierogi with spinach ricotta filling. A little fun is allowed, even with new resolutions. And otherwise you can simply exercise away the extra calories. More sport is always one of those popular resolutions.
In any case, you definitely don't want to miss out on this creamy gnocchi skillet. The secret; buttery soft oven roasted butternut squash.
And hey, just between you and me, 🤫 if you roast the squash in the oven ahead of time, this gnocchi skillet even mutates into a quick gnocchi skillet with creamy pumpkin sauce that's on the table within 20 to 30 minutes.
However, a comforting dish would not be one without a dash of umami. This is where the vegan sausage comes in. Crispy fried, it gives the creamy pumpkin gnocchi pan that certain something. If you're still looking for vegan sausage alternatives that taste good, I can highly recommend Beyond Meat Bratwurst and Heura Vegan Chorizo. And let's face it, pumpkin gnocchi with sage butter is already phenomenally delicious, but it can also have a twist, right?
Once you've grabbed your favorite vegan sausage. And perhaps wisely roasted the pumpkin in the oven, you're ready to go. And if you can't get enough of pumpkin recipes, you can try this penne with pumpkin sauce right now. By the way, do not be afraid of brown slightly charred spots. Feel free to burn the skin of the butternut squash a bit. This is the only way to create full-bodied roasted flavors, which we then catapult into our creamy pumpkin sauce in no time at all.
And if the oven is already fired up, a larger amount of pumpkin can be roasted in wise foresight. The soft pumpkin flesh can be processed – into puree – and easily frozen. Then you can prepare the gnocchi with creamy pumpkin sauce more often.
Before we even get to the pumpkin sauce for the gnocchi, we fry the vegan sausage until really nice and crispy. After all, you have to have a little crunch. The sausage go into the gnocchi with pumpkin sauce pan just before serving.
Wait a minute! We forgot something, didn't we? Right! The sage. The sage is also added to the vegan pumpkin gnocchi skillet just before serving. Finally, we want to draw from the full flavor of sage. The longer you cook it in the sauce, the sooner it loses its flavor. Therefore, really only trickle into the pan a minute before serving.
With that said I wish you bon appétit!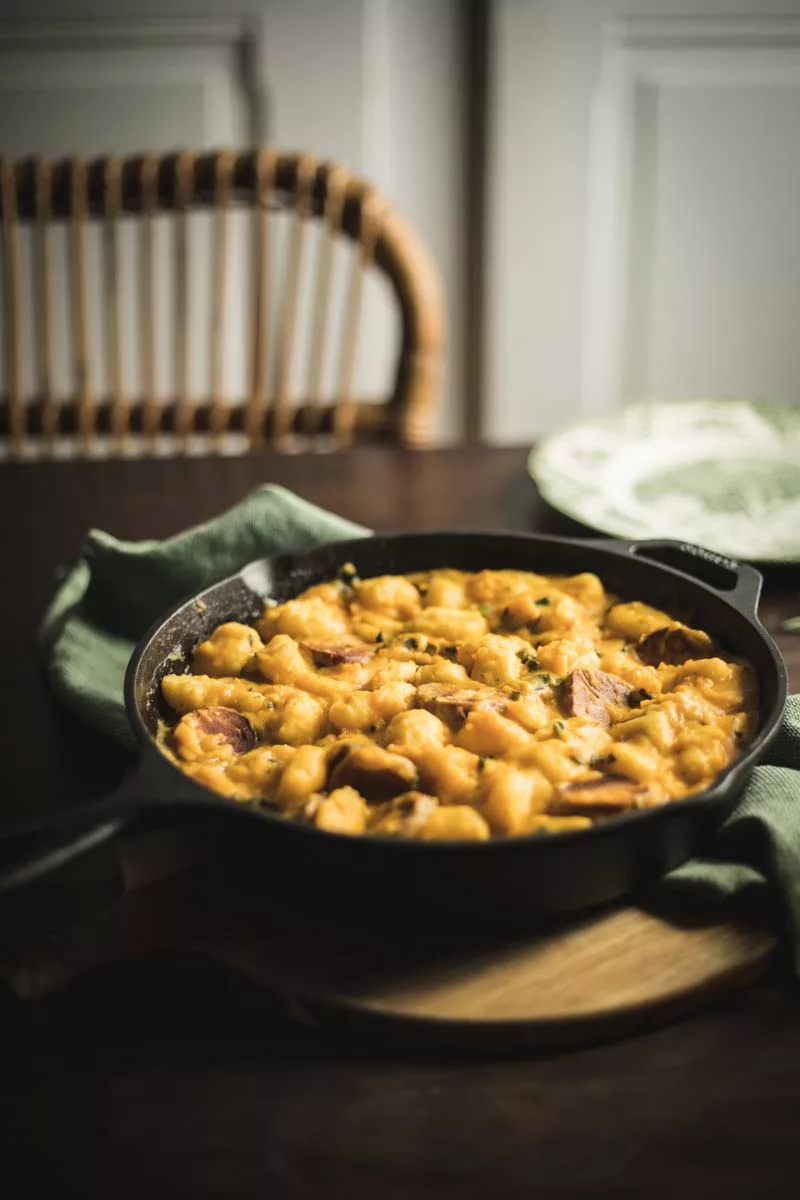 Gnocchi with Creamy Pumpkin Sauce
Butternut squash meets gnocchi, topped with crispy fried vegan sausage and aromatic sage. Ready is our currently favorite comfort dish. Honestly gnocchi are already so irresistible, but gnocchi with creamy pumpkin sauce are super super irresistible!
Ingredients
2

sausages

vegan, sliced

3-4

tbsp

olive oil

3

garlic cloves

finely chopped

200

g

potato gnocchi

vegan

300

g

pumpkin purée*

200

ml

vegetable broth

vegan

150

ml

cream

vegan

10

stalks

sage

roughly chopped
Instructions
Fry sausage slices in 2-3 tbsp hot oil until crispy, put aside.

Sauté garlic in 1 tbsp olive oil, add gnocchi and fry quickly.

Add all the remaining ingredients and let simmer until sauce is creamy. Add sausages and sage & let simmer for another minute.

Serve immediately.
Recipe Notes
*Make your own pumpkin puree:
Pumpkin puree is very easy to make at home. Cut the butternut squash in half, remove the seeds – if you like you can clean the seeds and roast them as well – and roast the pumpkin halves with the skin facing upwards on a baking tray in the oven at 220° Celsius. The pumpkin skin should be lightly browned and easy to pierce with a fork. Remove pumpkin from oven and allow to cool. Then scrape out pumpkin flesh with a spoon and place in an airtight container. The pumpkin puree will keep in the refrigerator for 3-4 days. It can also be frozen in portions.
Nutrition Facts
Gnocchi with Creamy Pumpkin Sauce
Amount Per Serving
Calories 928
Calories from Fat 648
% Daily Value*
Fat 72g111%
Cholesterol 146mg49%
Sodium 1306mg57%
Potassium 618mg18%
Carbohydrates 53g18%
Protein 21g42%
Vitamin A 24729IU495%
Vitamin C 9mg11%
Calcium 138mg14%
Iron 7mg39%
* Percent Daily Values are based on a 2000 calorie diet.
You might also like this