This blogpost also is available in German.
Buddha bowls are massive insta-trending since late 2016 and 2017. Have you ever heard the term or tried a buddha bowl? I highly recommend them, not only can you overload them with all your favorite things, they are also super healthy if prepared with the right ingredients.
But first let`s dig a little bit deeper into how these bowls got their name. There are actually several theories how the term buddha bowl emerged. One suggests it`s derived from the fact, that buddha used to stroll through the pathways he was living, carrying a small bowl, where the people he met on his journey would put in any kind of food as a donation. Another theory proposes that the term buddha bowl derived from a buddhistic meditative way of eating called "Ōryōki", where they used to serve food right out of different sized bowls. The biggest bowl is called buddha bowl. And the third – less spiritual approach – states that buddha bowl just stands for a highly stuffed bowl that will make you stomach look like a the one from buddha after consuming it. Lifestyle slash trend word or spiritual and traditional offspring, in the end we can agree on two facts. First the name buddha is extremely marketable amongst, as Lisa Dawn Bolton already wrote in another blog post. Second the idea behind the buddha bowl concept, which is eating a little bit but not too much of everything, alias eating a balanced diet, indeed can be reconciled with living a spiritual life. Actually you can also call your buddha bowl macro bowl, nutri bowl, rainbow bowl, bliss bowl, hippie bowl or whatever type of name fits your very own customized bowl.*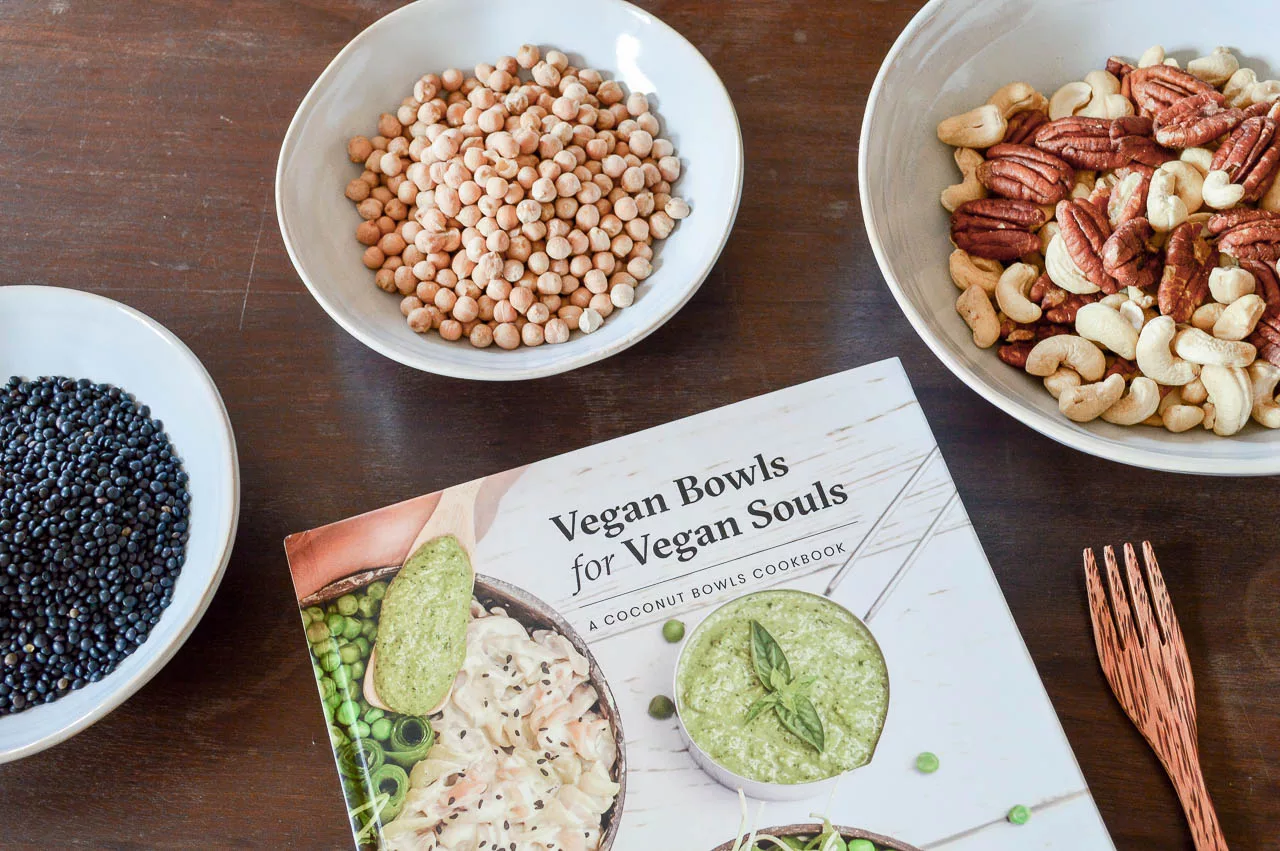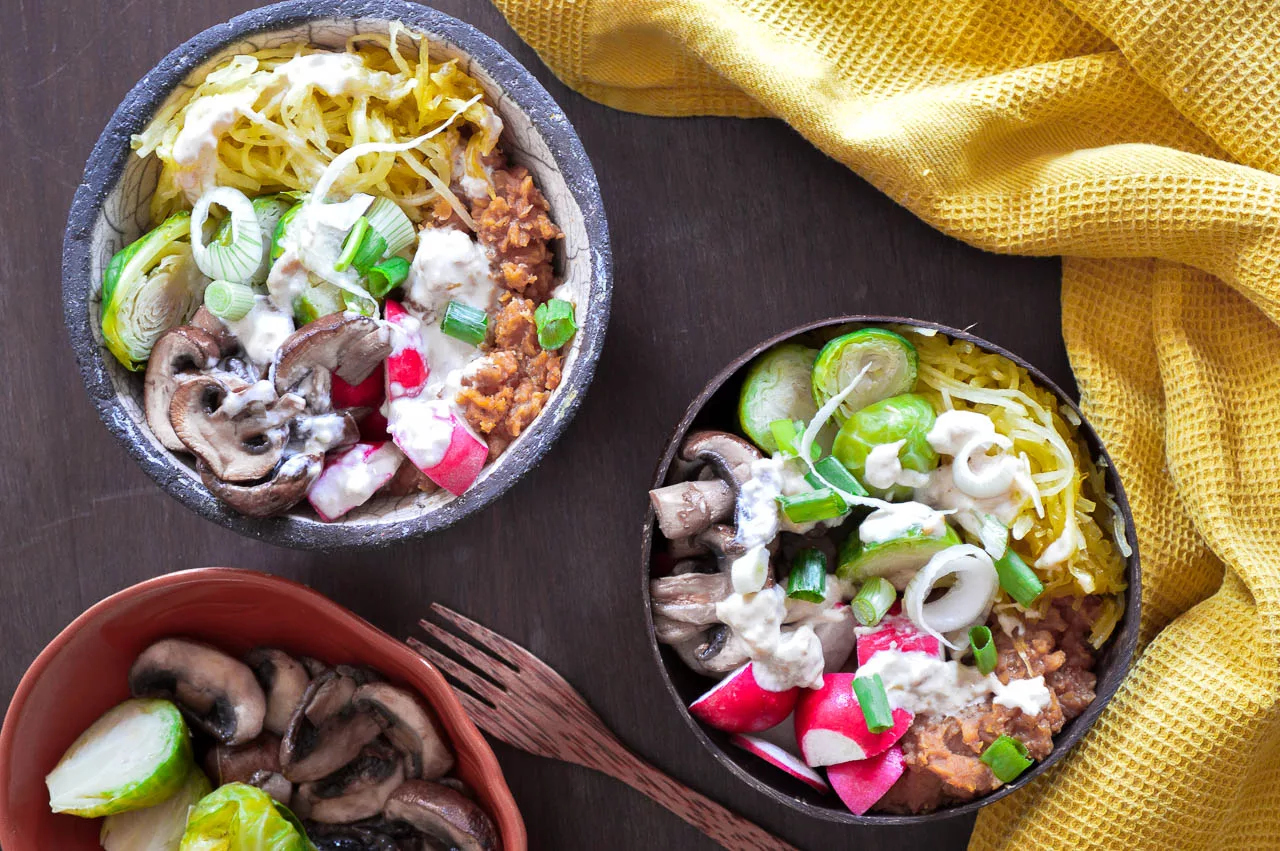 In terms of creating buddha bowls there are a few rules on what your bowl should consist off, but in the end you are pretty free and there`s a wide range of ingredients to choose from. Basically they should contain three different type of foods; whole grains, vegetables and protein, accompanied by greens and seeds/nuts. Personally I like a different approach dividing the ingredients of a buddha bowl into 7 different food groups. I found that way of creating bowls over at The Good Hearted Woman and whenever possible I try to go by her rules, which are the following;
Greens, as a Base –> use them to lay out your bowl, some examples for greens are; kale, any sort of lettuce, arugula, chicory, microgreens, spinach, swiss chard, iceberg, romaine, radicchio or cabbage
Gemüse –> any way of preparation works (sautéed, roasted, raw), all sorts of vegetables work
Proteine –> talking plant proteins here not animal proteins, some examples are; lentils, beans, chickpeas, tofu, tempeh or quinoa (also a pseudo-grain/pseudocereal)
Kohlenhydrate –> quinoa, buckwheat, soba noodles (all pseudo-grains), rice, corn, barley, millet, bulgur, oatmeal, cornmeal, brown rice, amaranth, black rice, wild rice, potatoes, sweet potatoes, all sorts of pasta or plantains
Süsse –> mostly fresh and dried fruits, personally they are optional to me, I tend to leave them out
Crunch –>für mich vorwiegend Nüsse und Samen, aber prinzipiell passt auch knackiges Gemüse (Gurken, Zuckerschoten, etc.)
Garnish/Toppings –> any kind of fresh herbs, scallions, dressings and or dips, like nut butters, hummus, guacamole, tahini, ecetera
This might be a small list, but I guess you can see the huge pot of options you can choose from. One other thing you want to keep in mind is to make your bowl as colorful and diverse as possible, because eating lot`s of different colors from the will provide you with a big variety of nutritients (also see this blog post, where I explain about eating the rainbow).
Of course I could not just leave you with this enormous flow of information without providing a buddha bowl recipe for you guys. What I created? Kind of a fall-inspired bowl with lot`s of fresh raw and cooked veggies and some low carb spaghetti made out of squash, the actual star of the bowl.
In case you want to start creating buddha bowls yourself or you are looking for some inspiration, go check out my buddha bowl pinterest board. I can also highly recommend you the book "Vegan Bowls for Vegan Souls", which contains a variety of different bowl ideas from foodies all over the instagram world (pictured above, not sponsored).
Have fun creating your own bowls and read you soon,
Sarah
Spaghetti Squash Buddha Bowl
Ingredients
1/2

spaghetti squash

100

g

red lentils

organic

1/2

tsp

cayenne pepper

1

tbsp

tomato purée

organic

salt & pepper

to taste

200

g

brussel sprouts

organic

200

g

brown mushrooms

organic

1

tbsp

hot chili oil

10

radishes

organic

1

scallion

organic

250

ml

soy cream

3

tbsp

cashew butter

organic

1

tsp

onion powder

salt & white pepper

to taste
Instructions
Preheat the oven at 250° Celsius. Remove pumpkin seeds and lay squash upside down onto a baking sheet. Roast in the oven for about 40 to 45 minutes. You can also prepare the squash the day before, which will safe you time the next day.

Let the squash cool down a bit and scrape the flesh out using a fork. Alway scrape from outside to inside and you will get nicely looking spaghetti. Put the squash spaghetti back into the oven at 100° Celsius to keep them warm.

Cook lentils according to the instructions on the packaging in water for about 15 to 20 minutes. Whilst cooking them add cayenne pepper, salt, pepper and tomato purée.

Rinse off brussel sprouts and halve them. Fill a pan with water, put brussel sprouts in the pan and cook them for 10 to 15 minutes. They should be cooked but still remain crunchy.

Rinse off mushrooms and cut them into chunky slices. Heat spicy chili oil in a pan and fry mushroom slices for 5 minutes in the oil. Season with some salt if you like.

Rinse off radishes and cut them into quarters. Rinse off the scallion as well and cut into rings.

Pour soy cream into a heated up sauce pan and bring to a boil. Add cashew butter, onion powder, salt and pepper. Cook until the cashew butter disolved evenly into the soy cream.

Arrange the squash spaghetti, lentils, brussel sprouts, mushrooms and radishes in a bowl. Top off by adding some scallion rings and drizzle over the cashew sauce.
* Used Sources:
https://lisadawnbolton.com/food/2015/06/buddha-bowl.html
https://www.epicurious.com/expert-advice/buddha-bowl-history-recipe-article
https://www.bonappetit.com/story/what-is-buddha-bowl
https://gesundheitstrends.netdoktor.at/a/ernahrung/trend-buddha-bowls-alles-in-einer-schuessel-15261