This blog post is also available in German.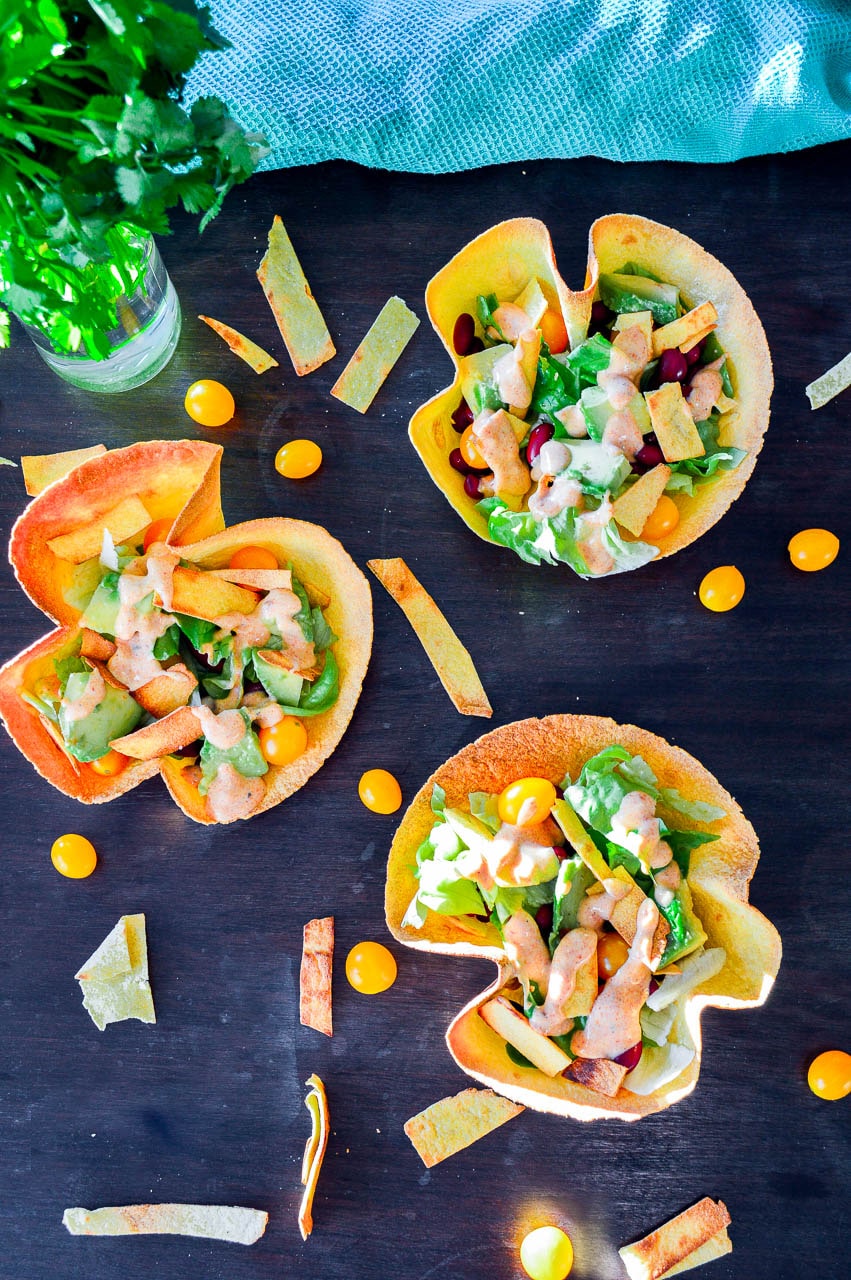 Where are the Mexican food lovers here? Ok, technically these taco bowls could also be from the Tex-Mex kitchen, I still don`t quite get the difference. But if anyone of you does, please let me know. So if I had to choose my favorite cuisine around the world, Mexican / Tex-Mex would definitiely be amongst my top three. Which is quite funny, because just a week back my father reminded me on how much I used to dislike spicy food when I was a kid. And now I love it! Actually that much, that even my husband, who is used to eat spicy food, used to tell me; "That`s too much babe", while me I feel like it`s just the right amount. Are you into spicy food and did you become a fan of it over time, like I did?
Bueno let`s talk tacos now. How do you like yours? Back when I was a teenager we used to eat them with ground meat, fried beans, fresh salad, chopped tomatoes and grated cheese. After moving out there was the big discovery of cilantro, thus I used to overload my tacos with that delicious herb and also added some lime. And then somewhat a big change in life; I became a vegan. What now? At the beginning I was struggeling on how to prepare my favorite dishes, tacos included, as I didn`t know that much about a healthy vegan diet yet. If you`re newly vegan might sound familiar to you, you just think veggies and that`s it. Actually this is also what a lot of non vegan people think about a plantbased lifestyle, that we just can eat vegetables and fruits. But there`s so much more to it like nuts, legumes, tofu or tempeh… The latter two by the way are my favorite meat substitutes for tacos. Grilled tempeh is super crispy (here`s a recipe for that) and imitation bacon bits make the perfect ground meat look-alike. Fried smoked tofu cut into stripes is also highly recomendable. See, no need to miss the meat here, there are a lot of plantbased options available.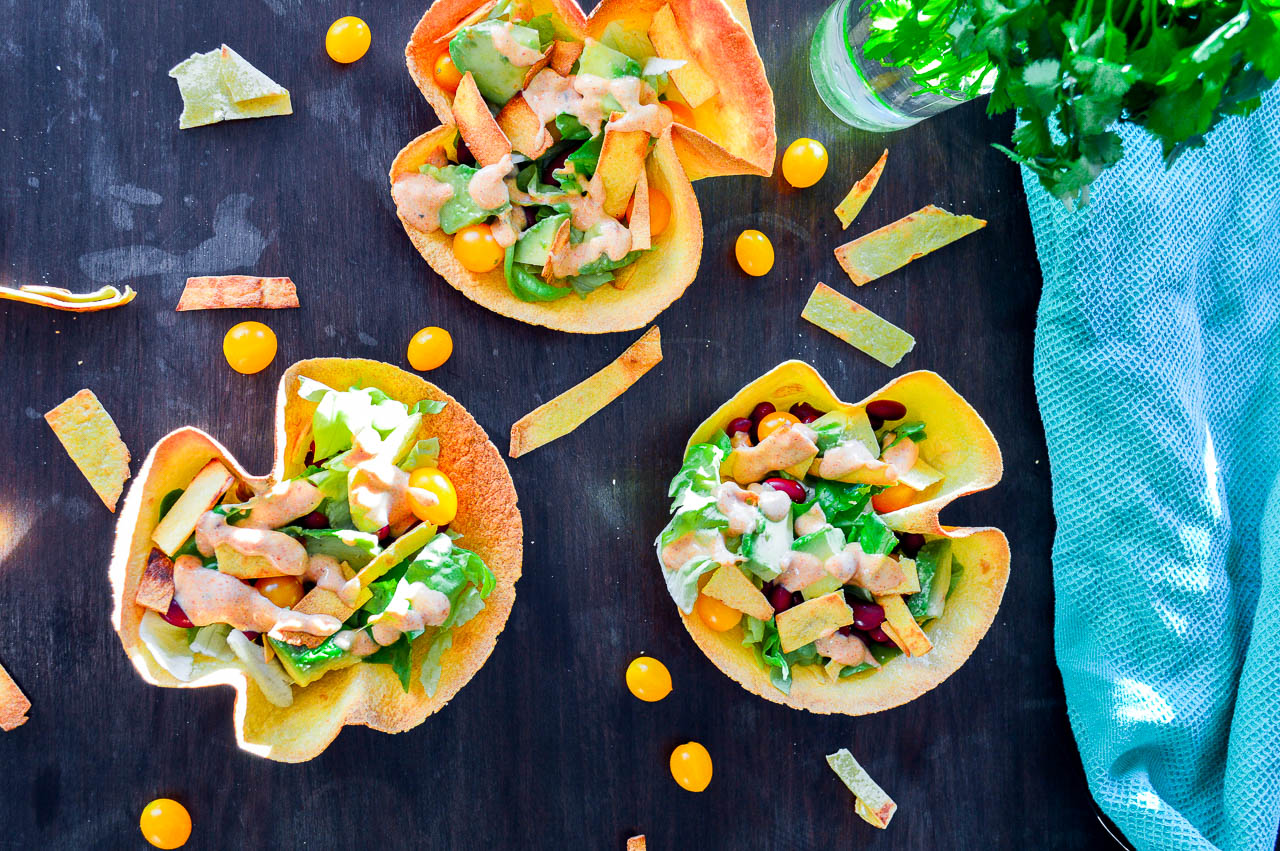 For today`s recipe I took tacos to the next level and transformed them into a salad, highly inspired by one of my favorite Mexican restaurants in town. We used to go there a lot, back in the days when I wasn`t vegan and I always ordered their salad with tortilla stripes. So I decided why not making my own little vegan taco salad at home. And the best thing about it? Well besides being vegan and healthy, you don`t have to clean any dishes afterwards as you eat right out of bowls made from tortillas.
Give this salad a try and feel free to customize it to your very own likings.
Read you soon
Sarah
Taco Bowl Salad
Ingredients
Salad
6

corn or wheat tortillas

1/2

romain lettuce or iceberg salad

organic

100

g

red kidney beans

canned

100

g

yellow cherry tomatoes

organic

1

avocado

organic

1

bunch of

cilantro

organic
Dressing
100

g

soy yoghurt

sugar-free

2

tbsp

lemon or lime juice

organic

2

tbsp

tex-mex spice mixture
Instructions
Salad
Preheat oven at 200° Celsius. Form 3 tortillas into a bowl shape. I did that by placing them very carefully into a bowl. Make sure they don`t get torn apart while you place them in the bowls. Use something to weight them down (for example baking beans). Bake them for 10 up to 15 minutes in the oven. The should turn golden brown and hard but not get burned. Take them out of the oven and let cool down


Heat a pan over medium heat (no oil!). Cut the remaining tortillas into stripes and roast them in the pan until they change color and turn hard. Switch off the heat and let them cool down.


Rinse off tomatoes and salad. Drain off the excess water and cut salad into stripes. Arrange salad in the taco bowls.


Rinse off kidney beans until the water doesn`t foam anymore. Add kidney beans and cherry tomatoes to the salad.


Halve avocado, remove the seed and avocado flesh and cut into small pieces. Place them in the taco bowl as well. Sprinkle over some fresh cilantro and the tortilla stripes.

Dressing
Mix soy yogurt, lemon or lime juice and tex-mex spice mixture together and drizzle the dressing over your salad. Serve right away and fresh!