Lemon tart with meringue in vegan? Yep, you read completely right! Today I share with you a tarte au citron recipe that, unlike the classic, is complete without animal products. How does it work? You'll find out in the following lines. Are you ready to try the experiment? You definitely won't regret it, because this lemon tart with meringue topping is a sticky-sweet temptation. Prepared with Demeter lemons of the best quality.
Jump to Recipe
Print Recipe
vegan tarte au citron with meringue
What a tempting name for a cake don't you think? So tempting that the idea for this lemon tart recipe has been following me since last summer. Inspired by the typical American Lemon Meringue Pie, I made the decision to try it myself. More difficult than I thought! Two failed attempts later I threw in the towel. It was not to be.
Wait – it was not supposed to be! But as the song from the cartoon "Feivel the mouse walker" already said; "Never say never"! When I got the opportunity to create a recipe with Demeter lemons in collaboration with Migros, I just had to give the lemon tart with meringue another change.
Vegan lemon tart with meringue
The classic lemon tart consists of a layer of dough, usually shortbread. Although I have actually seen variants with ground cookies. On the crispy dough comes lemon curd, followed by a layer of meringue. With the former, from my point of view; the sourer the better. And with the latter, if you ask my son; the sweeter the better.
Well you probably guessed it already, here a lot of butter and an almost even larger amount of eggs are used. But no problemo! Because as is well known, very much can be veganized. So also this lemon tart.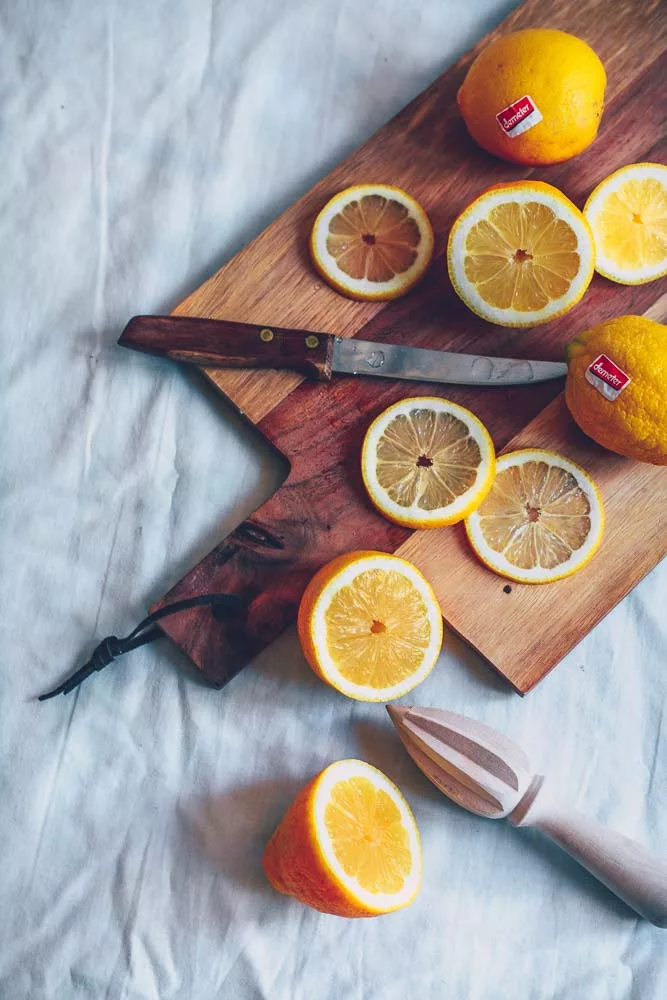 How to make the vegan lemon tart
If you have read this far carefully, then you know. This recipe took several attempts. With that in mind, I dare say that the lemon tart with meringue topping is not one of the easiest recipes on the blog. Quite doable, but a wee bit of experience and practice with vegan cooking will be beneficial. What there is to consider when baking this tart, I'll tell you in a moment.
If you want to enjoy a really full-flavored and tangy lemon tart, please use fresh lemons for this recipe. No lemon juice concentrate or store-bought lemon juice. Also, I would encourage you to buy high quality lemons. Here I can highly recommend the Demeter lemons from Migros. Then you can also be sure that your lemon was not treated with pesticides.
The most difficult part of this recipe is the vegan meringue topping. This you conjure up with aquafaba, the liquid from the chickpea can or jar. This step actually took me several tries and is not without its difficulties. Honestly, you could write a separate blog post on this. The important thing is that you whip the chickpea water really stiff. Which can take up to 20 minutes. And add the sugar step by step. Also, aquafaba doesn't like hot temperatures or high humidity. So make sure you're working on a dry day. The oven should be completely cooled down from the previous baking before you bake the aquafaba at a low temperature. Your utensils should continue to be completely clean and oil-free, as this can also affect the results. If you want to read more about vegan iced snow, I can recommend this post.
As with most baking recipes, I would urge you to really follow the instructions & quantities in the recipe. Other important notes can be found under the recipe itself.
Also, I recommend that you blind bake the shortbread for the lemon tart.
What does Demeter stand for and what is it?
The term Demeter is completely new territory for you or you can not imagine anything about it? No problem in an earlier post I have already gone into this topic. I also go into the difference between Demeter and Bio-Suisse in this blogpost.
An important question that is often asked in connection with a vegan diet is whether vegans are allowed to consume Demeter products. A very exciting article on the subject, which also reflects my view, can be found here
Where can I find Demeter products?
A question that I am asked from time to time by the community. Demeter products can be bought directly from the farm. You can find a list of all Demeter farms here. In addition, Migros is constantly expanding its Demeter assortment. Especially the assortment of fresh fruits and vegetables, such as Demeter bananas, lemons, cucumbers or zucchini, is continuously increasing. The best place to find out more is here in your local Migros.
Less waste tips
As always, here are a few smart tips to help prevent waste:
You can buy the dry ingredients, like sugar and flour, package-free at an unpackaged store
The Demeter lemons from Migros are available per se unpackaged and are sold without a net.
You may also find turmeric and starch at a well-stocked unpackaged store.
By the way, you can easily make your own coconut milk from grated coconut and water.
Instead of the chickpea water from the can/jar, you can also use the one from dry and soaked chickpeas. This is simply the water in which you have cooked the chickpeas. Be careful not to use the soaking water! If necessary, you must boil down the cooking water, then still something. I myself have never made aquafaba, because I always take aquafaba from the jar. But I know a colleague who makes it so with self-soaked chickpeas.
Alternatives to the products used
Of course, you can also omit some ingredients from this recipe or replace them with others. However, as soon as you change something in the quantities or ingredients, the result may be different. When baking, it therefore makes sense to stick to the ingredient and quantity specifications.
Do you get shivers down your spine just thinking about meringue? Whether it's because you're afraid to make it yourself or because it's just too sweet and doesn't taste good. No problem! Of course you can simply leave out the meringue. The lemon tart tastes just as good!
Do you give up sugar or butter? Maybe you even eat a gluten-free diet? You can of course use sugar alternatives for the dough base. I have also tested it with birch sugar and it works perfectly. For the meringue, I would personally use real sugar. With birch sugar it did not work for me. You can replace the butter with coconut oil. Is of course then less sustainable. You can also make the dough completely gluten-free. Simply use a vegan and gluten-free shortbread recipe. Note, however, that the blind baking time may change.
You can also omit the turmeric in the filling. It is only added for the yellow color. The coconut milk can also be replaced with more sustainable plant milks. Alternatively, you can also use oat milk or oat cream. Corn, potato, and tapioca starches all work for the recipe. Just use what you have at home. Guar gum could also be used. However, you'll need to adjust the amount here.
Meal prep tips
The final result of this vegan lemon tart with meringue is for immediate consumption. Sorry for the bad news! In addition, I also do not recommend you to put the finished cake in the refrigerator, because the aquafaba meringue can liquefy or simply become mushy. Also, storing it or leaving it in the sun for too long is not recommended. The meringue topping should really go on the lemon tart right before eating.
However, you can easily prepare the shortcrust pastry in advance. This should still be refrigerated anyway. Yes, you can even freeze it. The lemon filling I would not make in advance. As soon as it thickens, it should be poured immediately onto the pastry base. Later – after it has thickened – it won't work because the icing will be too firm. However, you can prepare the vegan lemon tart up to and with lemon filling in advance. Yes even freeze should be possible. On the day of consumption, you then simply make the meringue topping.
Why you should try this vegan lemon tart with meringue:
It is:
vegan
dairy-free
with Demeter lemons of the highest quality
a sour sweet seduction
the perfect dessert for summer evenings
tastes great and small
More tangy lemon recipes:
If you try this vegan lemon tart with meringue, I would love to hear your feedback here in the comments. If you share your creation of this recipe on Instagram, please don't forget to link @velvetandvinegar and use the hashtag #velvetandvinegar. That way, my community and I are guaranteed not to miss your post.
By subscribing to my newsletter, you'll also get access to my e-book and other freebies, as well as exclusive offers & content delivered directly to your inbox. In addition, I will regularly send you the latest recipes, personal insights and interesting tips and tricks on the topics of vegan nutrition and sustainability. Via newsletter you also get the opportunity to contact me directly by simply replying to my emails. This way I can respond to your questions and wishes even more specifically. I look forward to welcoming you as part of my community!
See you soon Your Sarah
Vegane Zitronentarte mit Baiser
Zitronentarte mit Baiser in vegan? Jawohl, du hast komplett richtig gelesen! Heute teile ich ein Tarte au citron Rezept mit dir, das im Gegensatz zum Klassiker ganz ohne tierische Produkte auskommt. Wie das funktioniert? Das erfährst du in den folgenden Zeilen. Bist du bereit das Experiment zu wagen? Du wirst es definitiv nicht bereuen, denn diese Zitronentarte mit Baiserhaube ist eine klebrig-süsse Versuchung. Zubereitet mit Demeter-Zitronen in bester Qualität.
Equipment
Kuchenblech 28cm Durchmesser

Backpapier

Kichererbsen zum Blinbacken*

Zitruspresse

Küchenmaschine
Ingredients
Teig
200

g

Weizenmehl oder Dinkelmehl

Bio

70

g

Zucker*

Bio

1

Prise

Salz

Bio

100

g

vegane Butter*

Bio

3-5

EL

Wasser
Füllung
1

Zitrone, Abrieb von Schale

Demeter

3

Zitronen, Saft

Demeter, entspricht ca. 170ml Saft

200

ml

Kokosmilch

1/2

TL

Kurkuma, gemahlen

Bio

50

g

Stärke*

Bio

2

EL

Ahornsirup*

Bio, optional
Baiser
1

Glas

Kichererbsen, Flüssigkeit davon

Bio, entsprich ca. 100ml Aquafaba

150

g

Zucker

Bio

1

TL

Zitronensaft*

Bio

1

TL

Weinstein Backpulver*

Bio
Instructions
Teig
Alle Zutaten für den Teig bis und mit Butter in eine Schüssel geben. Und zwischen den Fingern zerreiben bis die Butter gleichmässig mit dem Rest vermischt ist.

Löffelweise Wasser hinzugeben und Teig dabei leicht kneten. Sobald der Teig kompakt ist aufhören zu kneten. Der Teig sollte nicht zu stark geknetet werden. Am besten verwendest du auch keine Küchenmaschine, sondern machst es von Hand.

Teig für ca. 30 Minuten in den Kühlschrank stellen.

In der Zwischenzeit Ofen auf 180° Celsius vorheizen (Ober- und Unterhitze) und Backblech mit etwas veganer Butter einfetten und etwas Mehl darüber streuen.

Teig auf einer bemehlten glatten Oberfläche ausrollen und in die Kuchenform legen. Ränder leicht andrücken. Jedoch so, dass sich die Tarte noch aus dem Blech heben lässt. Überschüssigen Teig abschneiden, falls vorhanden.

Backpapier auf den Tarteboden legen, Kichererbsen darüberstreuen. Tarte 25-30 Minuten auf der unteren Rille des Ofens backen.* Tarte rausnehmen, ca. 30 Minuten abkühlen lassen. Danach Backpapier und Kichererbsen entfernen.
Füllung
Zitronen unter heissem Wasser waschen und trocken tupfen.

Schale einer Zitrone abreiben. Zitronen auspressen. Saft durch ein Sieb in eine Pfanne giessen. Abrieb dazugeben.

Stärke in etwas Kokosmilch auflösen.

Alle Zutaten in die Pfanne geben und bei mittlerer Hitze kurz aufkochen. Dabei stetig rühren, damit nichts anklumpt. Pfanne vom Herd nehmen und weiterrühren. Sobald die Masse beginnt anzudicken sofort auf den Tarteboden giessen.

Tarte mit Füllung ca. 1 Stunde im Ofen komplett auskühlen lassen.
Baiser
Ofen auf 100° Celsius vorheizen. Achtung: Der Ofen sollte vom vorherigen Backen komplett ausgekühlt sein!

Kichererbsen abgiessen und das Wasser auffangen.* Die restlichen Zutaten abwägen und bereit stellen.

Aquafaba in eine saubere und ölfreie Schüssel geben. Zur Sicherheit Schüssel eventuell noch mit etwas Zitronensaft abreiben. Mit der Küchenmaschine schaumig schlagen. Das kann gut bis zu 5 Minuten dauern. Anschliessend Zitronensaft und Weinstein Backpulver beigeben. Nochmals kurz 1 Minuten weiter aufschlagen.

Nun löffelweise Zucker beigeben. Nimm dir Zeit für diesen Schritt. Es kann hier gut bis zu 15 Minuten dauern. Das Aquafaba ist fertig, wenn es sehr steif ist, glänzt und sich steife Spitzen bilden, die nicht zusammenfallen. Zudem sollten keine Blasen mehr vorhanden sein.

Aquafaba nun auf der abgekühlten Zitronenfüllung verteilen. Eventuell – je nach Marke – hast du zu viel Aquafaba. Mit dem Rest einfach Pavlovas oder kleine Meringuen backen, die du dann für andere Nachspeisen verwenden kannst.

Zitronentarte in der Mitte des Ofens ca. 40 Minuten backen. Wenn du den Baiser weicher magst, dann reichen auch 20-30 Minuten. Für eine schön gebräunte Haube kannst du die Tarte die letzten 5-10 Minuten auf die oberste Ofenrille schieben und die Grillfunktion einstellen. Jedoch gut aufpassen, dass das Baiser nicht verbrennt.
Notes
*Zum Blindbacken kannst du getrocknete Kichererbsen verwenden. Diese anschliessend abkühlen lassen und weiterverwenden zum Kochen.
*Alternativ kannst du anstelle von Zucker auch Birkenzucker nehmen.
*Die Butter sollte kalt sein.
Für dieses Rezept habe ich Tapiokastärke verwendet. Ich hatte nichts anderes zu Hause. Du kannst jedoch problemlos Kartoffel- oder Maisstärke nehmen.
*Ich persönlich finde die Tarte schon genügend süss und ich mag die Füllung sehr sauer. Du kannst aber gerne noch etwas Süsse in die Füllung geben.
*Zitronensaft und Weinstein Backpulver werden zugegeben, um das Baiser stabiler zu machen. 
*Es ist vorteilhaft für das Gelingen des Baiser, wenn du die Kichererbsen am Vortag in den Kühlschrank stellst. So dass das Aquafaba richtig kalt ist für die Verarbeitung.
*Je nach Ofen braucht deine Tarte eventuell etwas länger. Der Boden sollte nicht mehr weich sein. 
You have a Pinterest account? Then you can find me here and of course pin this picture!