This blog post also is available in German.
Hopefully you aren't yet oversaturated with all the pumpkin based food floating the internet. But I promise I have something fancier in store than the regular pumpkin pie. Actually today I'd like to share a super easy and quick vegan pumpkin pasta sauce with you. Food is generally known to bring people together and that's especially the fact for pasta. And this creamy, aromatic, slightly spicy sauce is a magical fusion of fall and late-summer flavours that will amaze all your family members!
Everybody loves pasta right? But don't you feel like you are stuck in a rut in terms of the sauces to serve your pasta with sometimes? There's carbonara, marinara, bolognese, arrabiata, pesto and then you kind of arrived at the end of your repetoire? Let's be honest it's getting boring at one point and I've definitely been there as a vegan. So here's were the pumpkin turns out to be a great lifesaver! It literally blends in perfectly as a base for pasta sauce. The sweet slightly caramelized flavor of roasted pumpkin together with a subtle note of tomato, cayenne and paprika makes this sauce an aromatic explosion in your mouth. Not even to mention it's creamy texture which impeccably coats your pasta.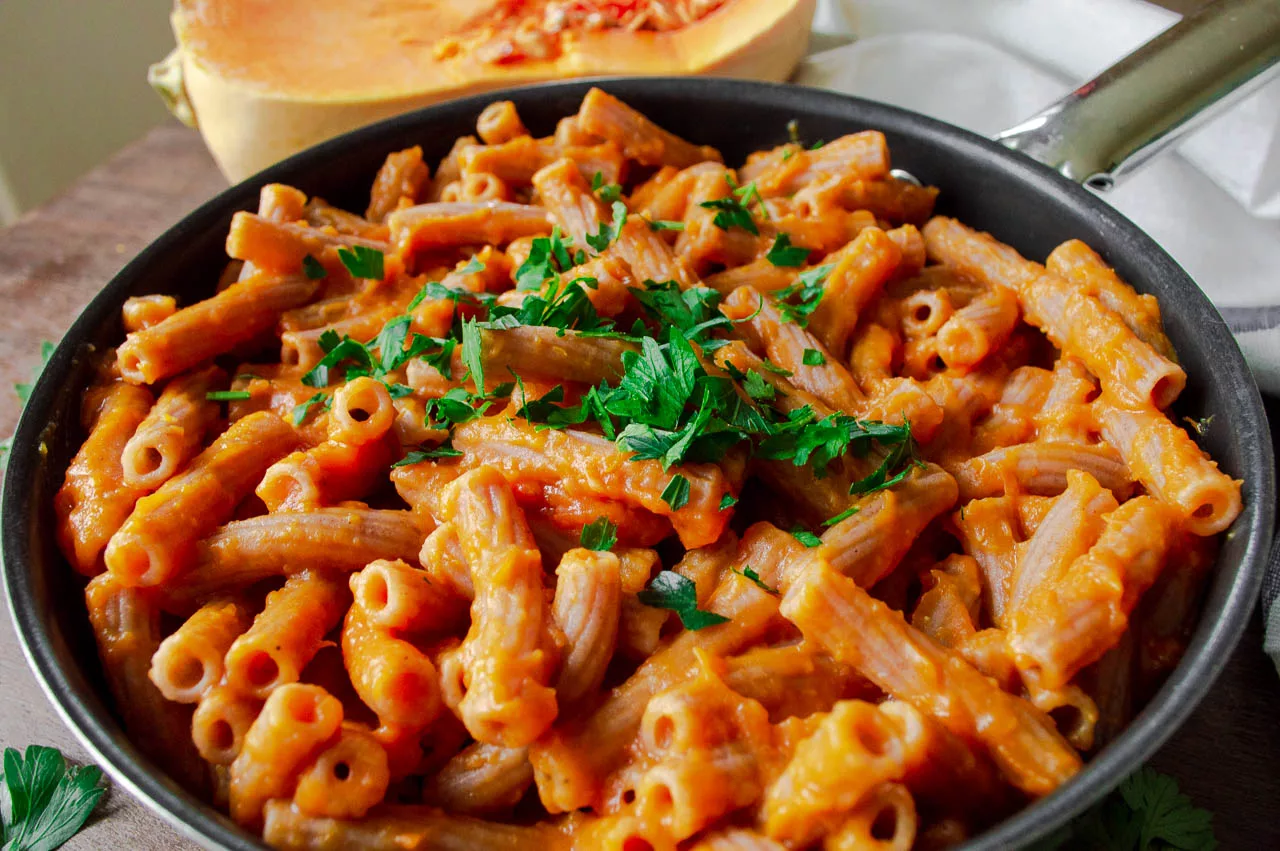 In terms of cooking with pumpkin, I most likely recommend to roast it in the oven until slightly caramelized. That way of preparation brings out the most of the pumpkins different flavor arrays. But that's just my personal opinion and it's not crucial for the outcoming of this recipe. You can boil the pumpkin in water as well if you don't have the time for roasting. It might just cause a different taste adventure. Which is why I advise you to take the time to roast your pumpkin a day before you are actually planning to cook the pasta.
With that said I wish you all a lovely Sunday and get your pumpkins ready for roasting!
Read you soon,
Sarah
Vegan Pumkin Pasta Sauce
Ingredients
250

g

pumpkin

organic

150

ml

vegetable stock

organic

1/2

tsp

salt

organic

1/4

tsp

mixed peppercorns

organic, freshly ground

a pinch of

cayenne pepper

organic

1/4

tsp

paprika powder

organic

1

tbsp

tomato purée

organic

1

garlic clove

organic, pressed

250

g

spelt pasta

organic

1

tbsp

nutritional yeast

organic

1-2

tbsp

flat leaf parsley

organic, finely chopped
Instructions
Preheat the oven at 250° Celsius halve your pumpkin and lay it upside down onto a baking sheet. Bake in the oven for 30 up to 40 minutes or until you can easily prick the pumpkin halves with a fork. I recommend doing this step the day before cooking the sauce.


Let the pumpkin cool down, remove the flesh, put it into a mixer and add all the other ingredients on the list up to the garlic. Purée until you got a creamy smooth sauce.


While you prepare the sauce you can cook the pasta according to the instructions on the packaging.


Drain off pasta water and mix pasta immediately with the pumpkin sauce. Serve and sprinkle on some freshly chopped flat leaf parsley and nutritional yeast.