How about crispy crispbread instead of bread for breakfast? Because homemade crispbread is so delicious and you know exactly what's in it. This vegan crispbread is also rich in healthy fiber, thanks to the whole rye flour it contains. Still not quite convinced about wanting to test vegan whole grain rye crispbread? I got ya! It's crunchy, sugar-free, filling, not at all lazy or bland, and topped with crunchy seeds and kernels.
Jump to Recipe
Print Recipe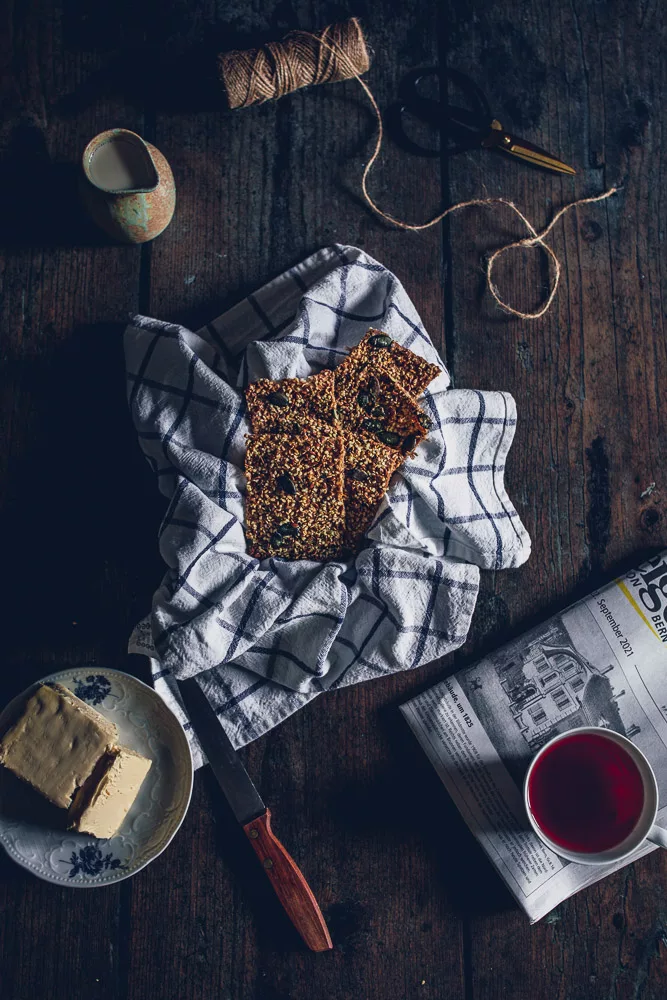 Vegan crispy crackers
Ok, ok I admit it yes, with crispbread wabbt one now not exactly a wave of enthusiasm against. Strictly speaking, a chocolate cake triggers significantly more enthusiasm. It may be because crispbread somehow has a somewhat dusty image. Quasi a David Hasselhof on the bread shelf. Ergo, it also seems to me that especially elderly people like to eat crispbread.And last but not least, there is crispbread that just tastes like absolutely nothing and is dry as dust.
Voilà that was now for the first time no ode to crispbread. But hey, even still waters run deep!
What do I mean by that? Crispbread can be really delicious when properly prepared and jazzed up. And that's exactly what I want to convince you of with today's recipe for a vegan whole grain rye crispbread.
Vegan wholemeal rye crispbread
I somehow always associate crispbread with older people and therefore with my grandpa. Which, by the way, is actually more often rusks and crispbread. And even as a child, I actually really liked it – thickly spread with butter, of course – as a bread alternative for breakfast.
For me, crispbread is symbolic of Sweden, where I would love to travel. So as you can see, I definitely find crispbread attractive to the complete incomprehension of some of my work colleagues.
Now you might be wondering, why haven't you posted a recipe for this yet Sarah?
I'll be completely honest with you…. I just didn't have the guts. Always thought it was quite difficult to make crispbread itself. When I was allowed to test the wholemeal rye flour from Migros, I decided to finally tackle the project of homemade vegan crispbread. And one tiny bit of research later, I realized; it's not that complicated. And after testing it, I have to admit, it's easier than baking bread. That's how you can be fooled for years.
How to make vegan wholemeal crispbread
Eww crispbread, that's totally bland and dry. These are exactly the words you hear from people who don't like crispbread. And these are exactly the two things that can also go wrong with homemade crispbread. Or even worse – in any case from my point of view – the crispbread is not crunchy, but soft. Oh yes soft crispbread is doomed to certain death.
How can you avoid this?
As long as you add enough salt to your crispbread, it won't taste bland. The dough for this is best to taste before baking. The best way to spice up your crispbread is with tasty toppings like nuts, seeds, or herbs (rosemary is my favorite).
You can also influence the flavor by choosing a good flour. For this recipe I used whole rye flour from Migros in organic quality. This is not only healthier than white flour, but also tastes fuller and gives the crispbread a strong aroma.
Finding the perfect time to bake crispbread can be a little tricky. In principle; the thinner your dough is spread, the faster the baking process. If in doubt, you can put the crispbread back in the oven if it is still not hard enough for you. So one of my trays took 60 minutes and the other took 100 minutes. It's best to just press the dough briefly, then you can feel if it's still soft or already sufficiently dry.
The correct storage is important. After baking, allow the crispbread to cool and then store in a sealable tin. Do not let stand in the air, otherwise the crispbread will become soft and lose its crunchy properties.
Is crispbread vegan?
The question of whether crispbread is vegan is asked from time to time. Yes, crispbread – even the store-bought kind from the supermarket – is overwhelmingly vegan. Very very rarely crispbread contains animal products. To be on the safe side, it is of course always worth taking a look at the ingredients list.
Less waste tips
As always, here are a few smart tips to help prevent waste:
You can buy the dry ingredients package-free at an unpackaged store.
If you have a grain mill or a good blender, you can process rye into whole rye flour yourself.
Alternatives to the products used
Of course, you can also omit some ingredients from this recipe altogether or replace them with others. However, as soon as you change something in the quantities or ingredients, the result may be different. When baking, it therefore makes sense to adhere to the ingredient and quantity specifications.
So you can use other seeds and kernels if you don't like the ones I used. Or you can use nuts. Alternatively, crispbread tastes delicious with fresh or dried herbs.
You can also replace the oatmeal with other flakes or omit them. But then I would take flour instead of oatmeal. As already written I have taken wholemeal rye flour for this vegan crispbread. You don't like this flour or you can't find it anywhere, then you can exchange it for another flour. However, please note that you may need different amounts of water.
Meal prep tips
Crispbread can be easily prepared in advance. Yes this even makes sense if you always want to have fresh crispbread handy.
By the way, in a sealable tin, the crispbread can be kept for several days without any problems.
Why you should try vegan whole grain rye crispbread:
It is:
vegan
lactose free
with whole rye flour of the highest quality
full-bodied and aromatic
a great breakfast alternative to bread
rich in dietary fiber
sugar free
really nice crispy
More breakfast recipes:
If you try this vegan whole grain rye crispbread with oatmeal, I would love to hear your feedback here in the comments. If you share your creation of this recipe on Instagram, please don't forget to link @velvetandvinegar and use the hashtag #velvetandvinegar. So my community and I will definitely not miss your contribution.
By subscribing to my newsletter , you also get access to my e-book and other freebies, as well as exclusive offers & content directly in your mailbox. I will also send you the latest recipes, personal insights and interesting tips and tricks on the topics of vegan nutrition and sustainability on a regular basis.
You can also contact me directly via the newsletter by simply replying to my emails. This enables me to respond more specifically to your questions and requests. I am happy to welcome you as part of my community!
Bye for now
Your Sarah
Veganes Roggenvollkorn-Knäckebrot
Wie wärs mal mit knusprigem Knäckebrot statt Brot zum Frühstück? Denn selbstgemachtes Knäckebrot ist sowas von lecker und du weisst genau was drin steckt. Dieses vegane Knäckebrot ist zudem reich an gesunden Ballaststoffen, dank des darin enthaltenen Roggenvollkornmehls. Noch nicht ganz überzeugt davon veganes Roggenvollkorn-Knäckebrot testen zu wollen? I got ya! Es ist knusprig, zuckerfrei, sättigend, überhaupt nicht langeilig oder fade und getoppt mit knackigen Kernen und Samen.
Ingredients
130

g

Roggenvollkornmehl

Bio

100

g

Vollkorn-Haferflocken

Bio

3

g

Salz

Bio

300

ml

Wasser

20

g

Hanfsamen

Bio

20

g

Leinsamen

Bio

20

g

Sesamsamen

Bio

40

g

Kürbiskerne

Bio
Instructions
Ofen auf 150° Celsius vorheizen.

Mehl, Haferflocken, Salz & Wasser in einer Schüssel vermengen.

Zwei Backbleche mit Backpapier auslegen. Je die Hälfte des Teiges auf einem Backblech dünn ausstreichen. Am besten nimmst du dazu einen Teigschaber. Nicht dicker als 5mm ausstreichen. Teig ca. 15 Min ruhen lassen.

Samen und Kerne in einer Schüssel mischen und über die beiden Teige streuen. Mit deinem Löffel oder Teigschaber leicht in den Teig drücken.

Knäckebrot in der Mitte des Ofens 20 Minuten backen. Danach rausnehmen und mit einem Messer in Form schneiden.

Knäckebrot wieder in den Ofen schneiden und weitere 40-60 Minuten im Ofen backen bis der Teig trocken ist. Ab 30 Minuten Backzeit regelmässig überprüfen, ob Knäckebrot ready ist.*

Knäckebrot im ausschalteten Ofen abkühlen lassen, vorsichtig vom Backpapier lösen und in einer verschliessbaren Dose verstauen.
Notes
* Die Backzeit hängt sehr stark davon ab, wie dünn der Teig ausgestrichen wurde und kann daher variieren. 
Do you have a Pinterest account? Then you can find me here and of course pin this picture!