This blog post is also available in German.
This is a collaboration with Weber Grill Schweiz – sponsored blog post
Did somebody say desserts from the grill? Yes my lovelies you  definitely haven`t misread anything. Today grilling is going to be sweetend up not oversalted. Of course you should not take this expression word by word. I actually believe that you do not serve your guests oversalted food. What it really means is, that today we are giving precedence to the sweet flavor buds, making desserts the stars on our grill. Because in reality they are as wonderful and luscious for a BBQ as any other heftly or salty dish. Sadly it is a fact that sweets often get neglected in terms of grilling, although summer isn`t only the best time for a barbecue but also brings out the best fruits. None other season supplies us with so many sweet fruit sorts for grilling!
Why grilling fruits after all if you can just enjoy them the way they are? This might be a question popping up in your heads. I`ll give you an answer right away. Because the heat of the grill will elicit unimagened flavours from your fruits. By basting with a sugary syrup (agave, date or maple syrup) or coconut blossom sugar on a regular basis caramelization will take place which will bring to light the full sweetness of the fruits. That is why grilled fruits are poles apart from raw fruits. Besides that, the effort for preparing is quite small and the quote of successing is almost 100%. On top of that, it makes kind of a change to create a whole menue for your guests on the grill. As a consequence the grill party will be a cozy sitting together without being obliged to run into the kitchen all the time to check on the dessert in the oven. Additionally you will enjoy the beautiful sunny summer weather to the fullest, as you can prepare everything directly outside.
And these are the very reasons why I am dedicating this very blog post to sweets prepared on the grill. I think now you would like to know with what kind of recipes I created for you today? Ok, let`s put you out of your misery.
Today`s lead characters are grilled summer fruits (pineapple, apricots, strawberries, figs with vegan goat cheese and mangos), as well as a well known classic amongst vegan BBQ desserts, namely chocolate banana boats. On top of that there will be also served some vegan s`mores and a gorgeous berry galette, straight from the grill. The latter one is my all time favorite. Kids on the other hand will definitely love the s`mores and the grilled fruits. In case you feel like it you can also make a dip out of the s`mores for your fruits. Of course you are free to chose from whatever fruits you like, there is no limit, as practically all of them are suitable for the grill. And every single one of them has it`s own delicious taste. So if you don`t fancy the sorts I went for, just use different ones. How about watermelon, peaches, pears or maybe plums? Nevertheless there are a few things to consider when grilling fruits:
 It is highly recommendet to baste the fruits with a sugary syrup or coconut blossom sugar repeatedly during the grilling process to allow caramelization to take place.

 If you are going for smaller fruits, like strawberries or figs, please be aware of the fact, that they will be ready to eat sooner than bigger fruits. So make sure to put them on the grill later if you prepare them with other fruits.

  Wooden skewers, pizza stones or grilling trays come in handy when dealing with smaller fruits. Consider using these tools for these situations.
Probably you already noticed that today`s choice of dishes are rather uncomplicated and can be prepared easily, which is why they are the perfect go to choices if you are hosting a huge BBQ party with a lot of guests. Usually you will already spend a good amount of time prepping the main course and side dishes for your party. Let`s not even talk about dessert! Because we all know most of the desserts are not done quickly within 30 minutes, no they require a certain amount of time and effort. Who agrees? And in the end your guests will be so full after the main course, that they do not even want to eat your dessert. Sounds familiar to any of you?Isn`t there anything more frustrating than standing in the kitchen for 3 hours making a dessert nobody want to eat? For that very reason today`s dishes all can be prepared directly on the grill without a lot of effort. And while your dessert is getting ready on the grill you can comfortably sit on the table with your guests enjoying the main course.
In case you are that kind of person, who likes to prepare something uber sophisticated, you just prefer more chocolaty sweets or you don`t like grilled fruits, here I have some alternatives for you:
 scones

 lava cake

 chocolate cake

 cobbler

 chocolate fondue

 brownies

 pie

 Trdelnik (Czech dessert)

 soufflé

 sweet pizza

 cookies

 crêpes or pancakes

 crème brûlée
There are absolutely no limits, just keep on experimenting or check out some desserts inspirations from Weber Grill Schweiz. For some of the above mentioned dishes I highly recommend using the premium pizza stone from Weber Grill, which is very convenient for making sweet pizzas, scones, galette, cookies and any other type of baking goods that aren`t too runny. I actually used the premium pizza stone for the s`mores and the galette, like that you are also on the safe side nothing is dripping down your grill.
In case you decide to try out the grilled fruits, I have another tip for you on how to prepare them preventing sticking, which especially comes handy for bigger and round fruits. Any ideas? Okay, I`ll share my tip right away… Use a rotisserie, that`s the whole trick. They are definitely not only meant for roasting meat, but also for grilling certain fruits, like pineapple, peaches, nectarines, apricots, strawberries, etc. or even Trdelnik. We used this rotisserie protoype with electric motor for our Weber electronic grill Pulse 2000. And the most awesome fact about it? You don`t even have to turn by hand, the electric motor does all the turning by itself. But no worries, there are rotisserie prototypes for every sort of grill, gas or charcoal it doesn`t matter. Here you can find a selection.
Enough talking for now. The time has come to show you the reciped. Enjoy your BBQ and all the amazing chilly summer evenings as long as you can. Also I hope you`ll like the recipes
Read you soon,
Sarah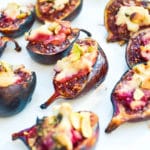 Grilled Figs with Vegan Goat Cheese
Ingredients
6

figs

organic

120

g

vegan goat cheese with lavender & thyme

organic

molasses, agave syrup, maple syrup, etc.

organic

1

handful

salted pistachio, chopped

organic
Instructions
Rinse off and halve the figs. Baste them with a sugary syrup.


Put the figs on the preheated grill for about 10 minutes and turn them form time to time.


Remove figs from the grill and make a little hole into the fruit flesh. Place vegan cheese into it.


Once again put the figs on the grill and leave them for 20 minutes or until the cheese is starting to brown. Don`t turn the figs, they are supposed to stay with the cheesy side up!


Take figs off the grill and sprinkle on some chopped salted pistachio.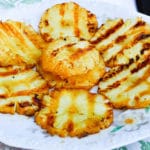 Grilled Pineapple
Ingredients
1

pineapple

organic or fairtrade

molasses

organic

coconut blossom sugar

organic
Instructions
Remove pineapple leaves and peel.


Baste the pineapple with molasses and spit it on the rotisserie. Sprinkle on some coconut blossom sugar.


Attach rotisserie to your grill and roast the pineapple at 200° Celsius until it`s turning goldenbrown and the outside is caramelizing. Make sure to sprinkle on some coconut blossom sugar from time to time.


Remove pineapple from the rotisserie, cut into slices and roast the single slices for another 5 minutes on the grill until they have the typical grill pattern.

Vegan S`mores
Ingredients
1

package

crackers of your choice

organic

1

package

vegan marshmallows

1/2

bar of

vegan chocolate

organic
Instructions
Break the chocolate into small pieces and put them one piece of chocolate together with a marshmallow on top of a cracker.


Put a second cracker on top of the chocolate. It should look like a chocolate marshmallow sandwich.


Place the s`mores on a flat surface, which you can put on a grill (pizza stone) and grill the s`mores until the marshmallows start to brown and the chocolate turns soft.

Grilled Chocolate-Banana-Boats
Ingredients
4

bananas

organic

1/2

bar of

vegan chocolate

organic
Instructions
Carefully cut into the bananas (with the peel still on) and slowly pull apart where you cut in forming a slit.


Break chocolate into small pieces and stick them into the slit in the banana.


Place bananas on the preheated grill and roast at 200° Celsius.


Grill bananas until the chocolate starts to melt. By the way don`t worry, it`s pretty normal that the peel of the banana will turn black. It doesn`t mean that you burnt your banana. They still will be delicious!

Berry Galette
Ingredients
50

g

raspberries

organic

50

g

blueberries

organic

50

g

red currents

organic

1

package of

puff pasty

organic
Instructions
Carefully remove puff pastry from packaging and roll out. It should be about 5mm thick.


Place rinsed off berries in the middle of your puff pastry and start folding the edges of the pastry dough forming a round galette.


Preheat grill, place galette on a pizza stone or baking tray and bake for 45 minutes on the grill. Make sure to check from time to time if the puff pastry already turned brown.

Grilled Mango
Ingredients
2

mangos

organic

molasses, agave syrup, maple syrup

organic
Instructions
Remove peel and core of the mangos and cut mango into slices.


Baste every mango slice with a sugary syrup or molasses.


place the slices onto the grill and roast for about 15 minutes until brown stripes are starting to appear. Don`t forget to turn the slices from time to time.

Grilled Apricots & Strawberry Skewers
Ingredients
6

apricots

organic

20

strawberries

organic

molasses, agave syrup, maple syrup

organic

7

wooden skewers
Instructions
Soak the skewers in water for several minutes.


Rinse off the fruits. Halve apricots and remove the seeds. Split apricots and strawberries on the skewers. You can make mixed skewers or just use apricots or strawberries for one skewer.


Baste the fruits with a sugary syrup and put them on the grill for about 10 minutes. Don`t forget to turn the skewers.