This blog post is also available in German.
Today part two of this series is coming up to the blog, talking about the topic infused water spring style (you can find the first part with the winter flavors here). The aim of this series is to help you cover your daily water intake throughout the whole year without getting bored. You all know already that water isn`t the biggest adventure for our taste buds, which is why it`s kind of nice to spruce it up a little by adding fruits, spices, herbs and even veggies. Like that drinking water becomes way more fun! And you will reach your daily water goal without any problem. At the same time you can also be sure about the purity of what you drink, as you can avoid any extra sugars, artificial sugars or aroma, which might be the case for storebought infused water.
Still one important point needs to be clarified, you need a daily drinking routine with infused waters as well, but still the overall motivation to drink will be higher with infused water than regular one. Drinking routine means, that you should get used to drink water on a regular base equally distributed during the day. This sometimes can be a little bit tough, especially at work. A nice tip to make this work is to put your glass/bottle of water or infused water on your desk/table/night stand or at a place where you regularly pass by, so you can always take a few sips. Always be aware of the fact that our body can only manage 200ml of water per 15 minutes. This is the amount that can be absorbed within that time frame. So there is absolutely no sense in drinking a huge glass of water in the morning or before you go to sleep, as your body probably will only be able to use half of the amount. It`s better to drink little amounts at once but more frequently. For example 300ml within 60 minutes, this is more ore less the rule I apply. If you do this for 10 hours a day you get a daily intake of 3 liters.
If you are outside, on hikes, in the nature, travelling or somehow on the move the best thing is to carry your own bottle of water, which can be refilled whenever you need to. A glass bottle actually would be the bottle of choice and should always be given preference. This is a really important matter to me due to the following reasons; glass bottles are way more sustainable, they don`t contain micro plastic, they are long-lasting, non-toxic and the better choice for our world and oceans. Plastic bottles can contain unhealthy substances that can be dissolved into your water, especially if exposed to heat or sun. And on top of that we should really start to get more conscious about reducing our plastic waste (there will be another blog post covering that topic in the future).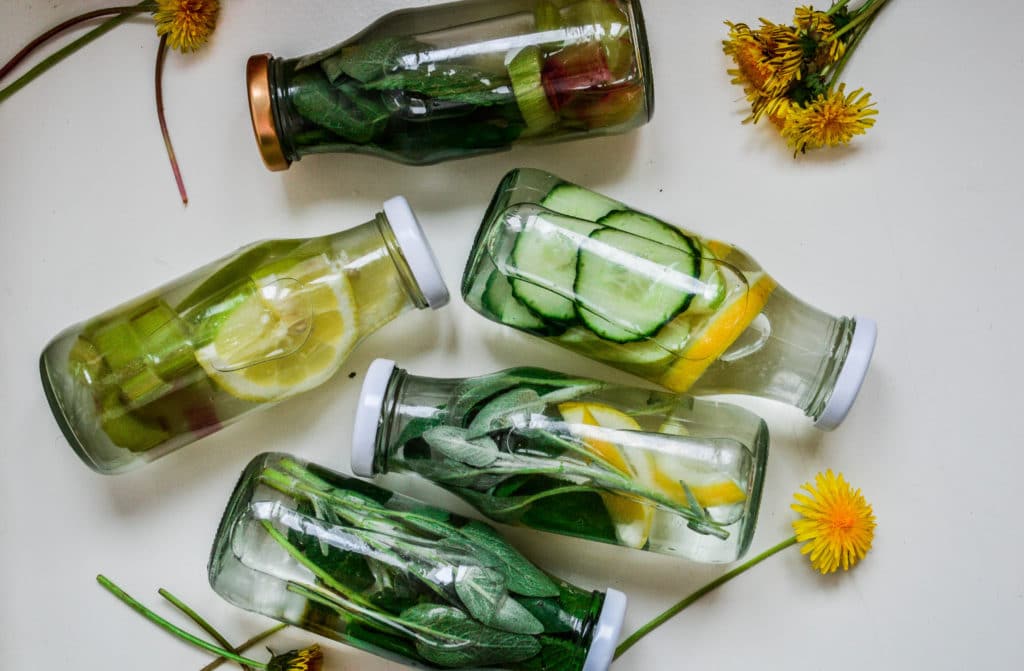 For all of you guys who still struggle with drinking enough water, there are apps available that remind you on a regular basis that it`s time again to drink. Even me I use an app like that, so if you are interested or need some tips, feel free to contact me. Some of these apps even calculate your personal daily water intake, as this is very individual.
Another important thing to consider is to pay attention to seasonality of your infused water ingredients. That is why this series covers all four seasons. You can find different flavor combinations for every season using ingredients that are available in that very season. Right now in Switzerland and Europe these are rhubarb, lemon (Europe), mint, sage and cucumbers (mid-April), which are also the ingredients I used for this post. Of course you can also use wild flowers to infuse your water. It`s also very important to use organic products, as you want a clean infused water without any contamination.
Vanilla-Dream-Water = Rhubarb + Vanilla (paste, poweder or vanilla bean)
Lemon-Mint-Water = mint + lemon (my favorite)
Green-Spring-Water = cucumber + green apple
Invigorating-Spring-Water = cucumber + mint + sage
Refreshing-Sage-Water = lemon + cucumber + sage
Alpine herbs-Water = sage + mint
Sour-Spring Magic-Water = rhubarb + lemon + green apple
Lemon-Spring Herbs-Water = lemon + mint + sage
Spring Trio-Water = green apple + lemon + cucumber
Minty-Rhubarb-Water = mint + rhubarb
In case you get bored of drinking regular water all the time and this post created some motivation for you to make your own infused water to spice things up a little bit from now and then, I reached my goal.
See you soon,
Sarah