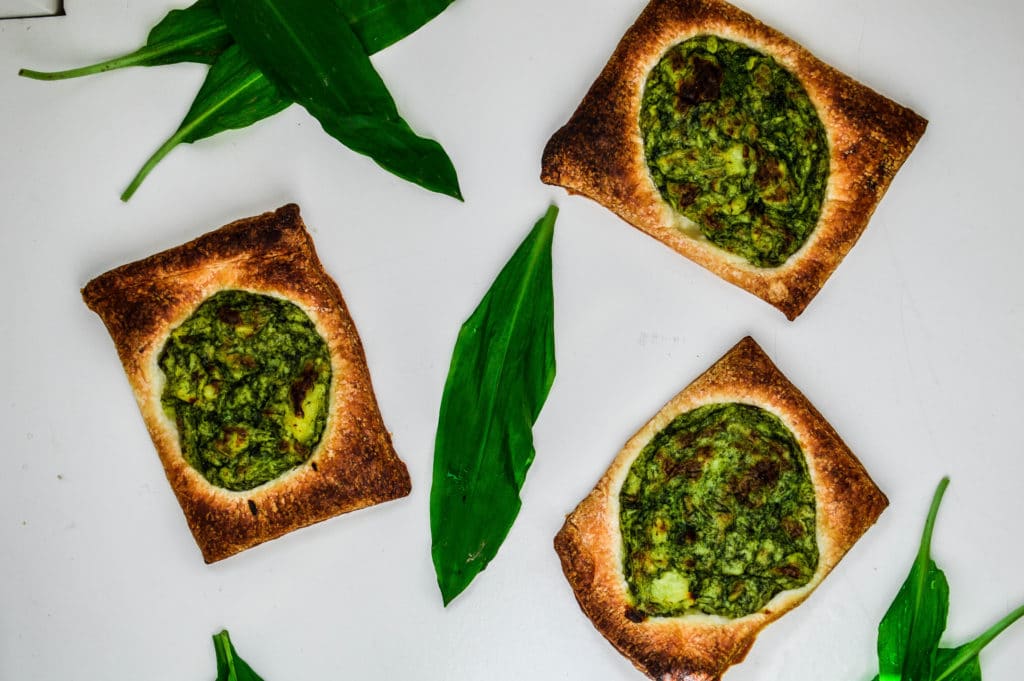 The wild garlic season is coming to an end soon and there will be only three weeks left to enjoy this tasty spring herb. It`s already out of stock in the majority of supermarkets and it`s flowers are starting to bloom in the nature. Nice to know, that we still have some delicious jars of homemade wild garlic pesto in stock. We are planning to use these to create a pasta recipe for you guys, which we are going to upload within the next two weeks. For now I want to share today`s recipe with you. What is so amazing about it, besides the fact that it contains wild garlic? You only need three main ingredients to create this! The original inspo is this recipe for potato mash with wild garlic pesto from the Swiss food blogger Kitchwitch.
I don`t know what`s your opinion, but in my case, I`ve always been a huge sucker for potato mash, especially when I was a kid. There are memories of my grandmother attached to this dish. She always knew how much I liked to eat her homemade mashed potatoes, which is why it was served almost every single time we went to have lunch at her place. Up to this very moment I haven`t stumbled upon any mashed potato recipe better than hers. So there is a certain sentimental and emotional value linked to this dish. Did this ever happen to you? Do you have meals or dishes, that are connected with a memory, an experience or a person?
As much as I like plain potato mash, sometimes it`s pretty nice to spice things up a little bit, for example by adding spices. And this is the moment the wild garlic enters the game. Because there isn`t any herb during spring season that is more suitable for this dish than this one. It`s intensive garlicy flavor does the trick. By adding it to your mash you`ll get a totally different taste experience. Just keep in mind one thing when using wild garlic: if you want to preserve it`s strong flavor, never ever heat it up!
Another advice, I actually got from my grandmother, use starchy potatoes when preparing mash. They have a way more dry consistency and tend to fall apart after cooking, which makes them the perfect candidate for mash. Now let`s move on to the recipe.
Ingredients (for 6 pockets):
320g puff pastry, organic & vegan
500g starchy potatoes, organic -> you can also use already steamed/cooked potatoes from the day before
50g wild garlic
1 tsp salt
a dash of ground nutmeg
Preparation:
Rinse off the potatoes and put them in a high pan. Fill the pan with water until the potatoes are nicely covered.
Cook the potatoes at medium temperature for 30 up to 40 minutes, depending on the size of your potatoes. No problem if you overcook them as you going to process them further
Rinse off and finely chop wild garlic leaves in the meantime.
Pour off the potato water and peel potatoes immediately. Now you have several possibilities. You can mash the potatoes using a fork/passe-vite/potatoe masher or food processor and just mix in the chopped wild garlic. Or you can cut the potatoes in pieces and put them in the food processor together with the chopped garlic. Like that you can process them into a mash together. I decided to go for the second procedure, although usually I don`t mash my potatoes this way. Just one thing; NEVER use a blender to do this! Mine started to smoke after I tried doing this.
Season the mash with salt and ground nutmeg.
Preheat the oven at 200° celsius.
Roll out the puff pastry (approximately 5mm thick) and cut into six evenly sized squares. Pour 2 up to 3 tbsp wild garlic mash onto the middle of every square.
Cover your baking sheet with parchment paper and distribute your squares on the paper. Bake for approximately 20 minutes on the middle rack of your oven. The pockets should be brown but not burnt.
Truly a great recipe! Especially if you have leftover potatoes and don`t know what to do with them. Of course you can substitute the wild garlic by any other herb you like, for example parsley, chive, basil or even cilantro. There`s no one stopping you from experimenting!
Read you soon
Sarah