Craving sandwiches with smoked salmon, but you're on a vegan diet? No problemo, because with this vegan carrot lox recipe you can satisfy your cravings for smoked salmon in no time without any animal suffering. How does this work? The solution is called carrot lox. Taste and consistency are 100 % on point! Just like the original. Maybe even a tick better and healthier, of course. The vegan salmon is also very easy to prepare without much effort. Grown-ups and kids will like it, as well as those skeptical about a vegan diet.
Jump to Recipe
Print Recipe
Homemade vegan smoked salmon made from carrots
Salmon toasts – oh that's where the nostalgia really kicks in for me. For others, perhaps more the wanderlust. Sweden graved salmon and so on. I have to admit – despite great Astrid Lindgren love – I associate smoked salmon toast with one thing in particular; Christmas. Because in our house, ever since I can remember, we always had toast with smoked salmon on Christmas Eve. Suddenly the fact that I switched to a vegan diet. However, doing without smoked salmon toast was out of the question. Therefore, a vegan option was needed urgently, namely this carrot lox, which you can prepare super easily at home. By the way, by now we are such big fans of vegan carrot-based smoked salmon that we don't want to reserve it just for Christmas Eve.
Carrot lox has become really popular on the World Wide Web as well by now. Since I had to immediately jump on the band wagon and share my version. In addition, this vegan smoked salmon is really so incredibly delicious that I do not want to deprive you of the recipe.
Vegan Carrot Lox
Do alarm bells start ringing when you read the title? You're already imagining that you'll need a zillion unpronounceable ingredients for this recipe? Cool down, it is true that this recipe is a carrot lox without nori, meaning you need liquid smoke. But other than that, you really don't need crazy ingredients that you have to run all over the place to buy them. And of course, I've also listed alternatives below in case you can't find one of the ingredients.
For something a little more energy efficient, I chose to steam the carrots for this lox version. Of course you can also roast them in the oven, if you prefer. Like that you create deep, rich, and flavorful roasted aromas. I personally love both preparation methods. The consistency of the carrot lox is really super authentic. I also find it very close to the original in taste. Plain speaking; its carrots not smoked salmon! So it does not taste exactly the same, of course. But this vegan smoked salmon alternative is quite close to the original.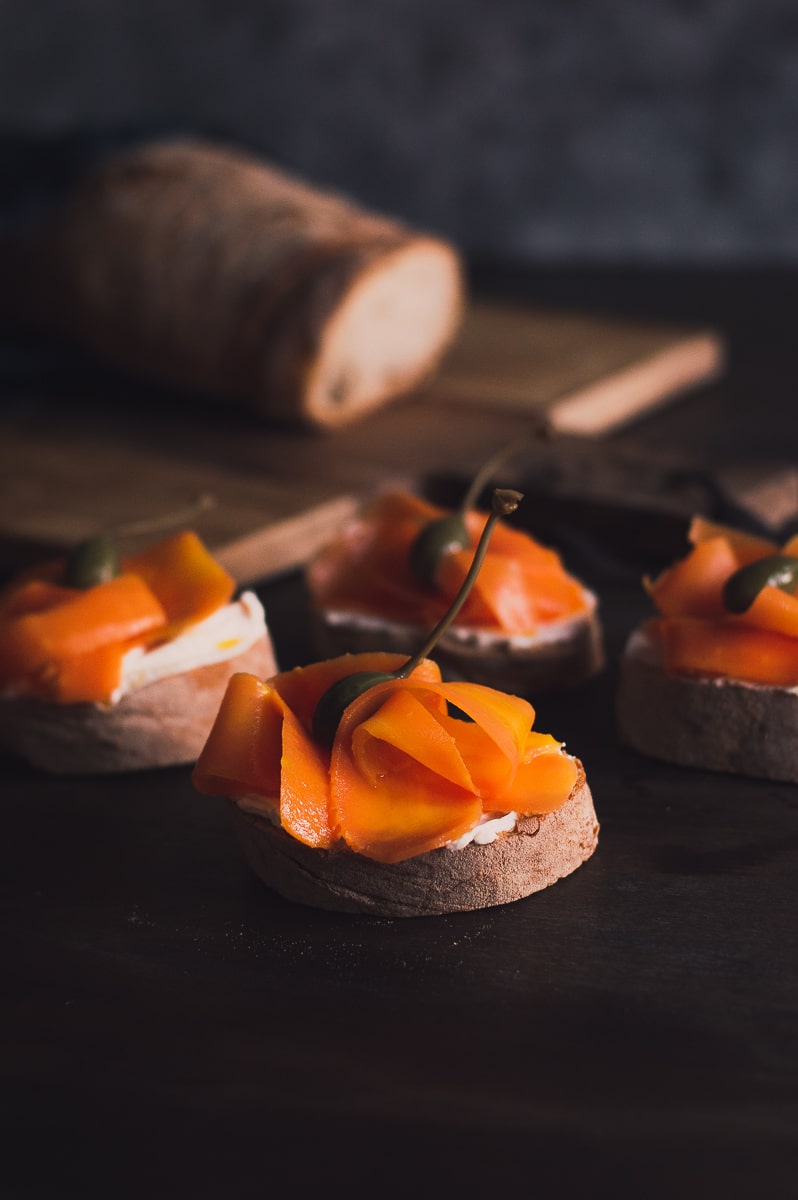 How to make the vegan carrot lox.
Vegan smoked salmon from carrots may sound complicated. But you can't do much wrong. The most important thing is that you don't steam the carrots for too long. Otherwise, they will disintegrate afterward when cutting. Of course, you want to avoid that, because you want strips as long as possible so that your vegan salmon looks like the original.
Second, you should take your time to prepare the carrot lox. The longer the vegan salmon can bathe in the marinade, the better and more aromatic the result. The effort to do it yourself is minimal, but it actually takes some time. The carrot strips should definitely be allowed to soak in the marinade for at least 24 hours.
Is liquid smoke vegan and harmful?
Yes, liquid smoke is vegan. Liquid smoke – also liquid smoke – is essential for this vegan salmon recipe. It gives the carrot salmon the desired smoke aroma. Liquid smoke is created by burning wood. The resulting smoke is caught and cooled down. This liquefies the smoke. No animal ingredients are involved in the production.
Liquid smoke is still considered to be less harmful to the environment and health than regular smoking. Tar and smoke are filtered out of the end product. How and to what extent liquid smoke is harmful is still unknown today. However, very large quantities would probably have to be consumed for liquid smoke to be really harmful to health. Which is seldom the case in conventional recipes. Maximum levels for liquid smoke have yet to be determined.
Less waste tips
As always, here are a few smart tips to help prevent waste:
You can find all fresh ingredients, i.e. carrots and lemons, at the weekly market.
Salt and linseed oil should be found in a well-stocked bulk store.
You can bake toast yourself.
You can find liquid smoke in larger department stores or you can order it online.
Alternatives to the products used
The bad news first. The carrots cannot be exchanged. So if you can't tolerate them, then unfortunately there is no alternative. Would you like carrot lox without liquid smoke? That in turn is absolutely not a problem. Just replace the liquid smoke with a few dried nori sheets. That works very well too. But maybe you don't like linseed oil at all. Well, then you take another oil instead. For example olive or rapeseed oil. Since linseed oil naturally tastes like fish, it goes very well with vegan carrot lox and I wouldn't leave it out unless it's absolutely necessary.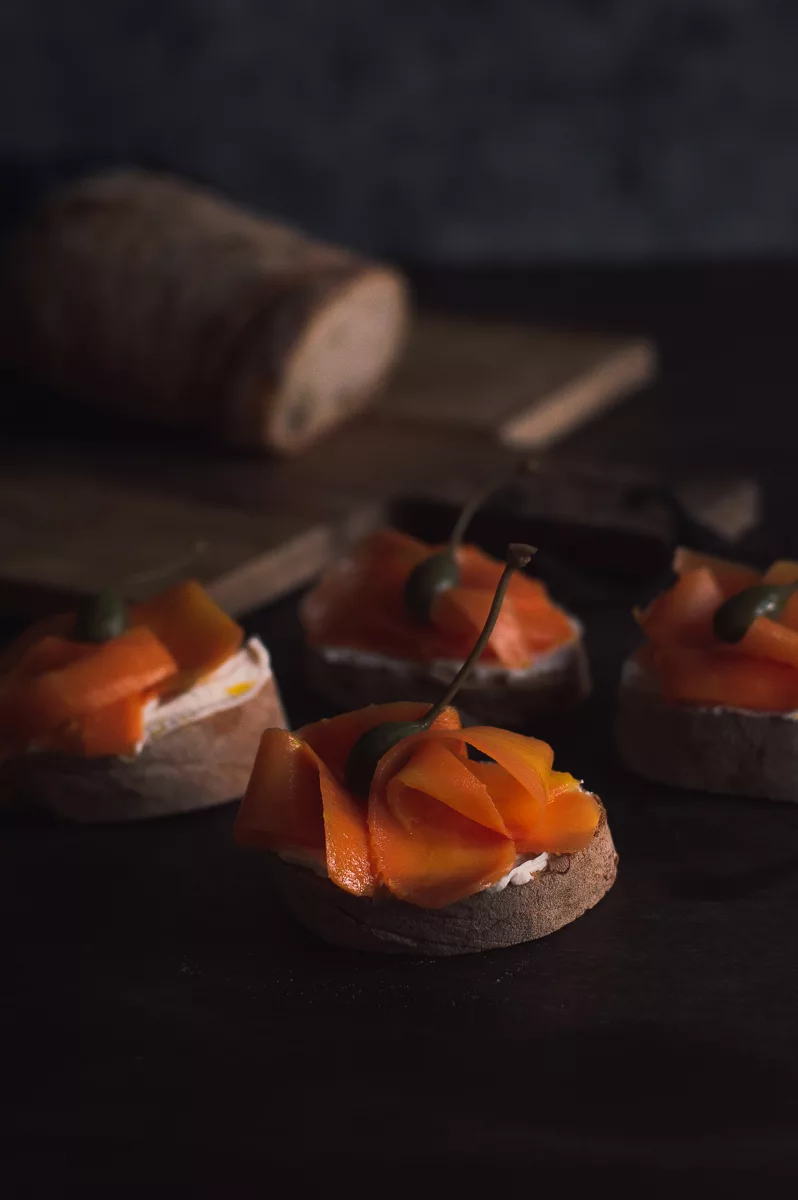 Meal prep tips
Vegan smoked salmon made from carrots is of course easy to prepare in advance. Yes, it should even be prepared in advance. Because the longer it can steep in the marinade, the better. So you can easily prepare the carrot salmon 2-3 days in advance. Then you pack it together with the marinade in a sealable container and store it in the refrigerator. However, carrot lox is not suitable for freezing.
What goes well with the carrot salmon?
What does the vegan carrot-based smoked salmon go with?
smoked salmon toasts
vegan smoked salmon crostini
vegan smörgåsbord
vegan salmon bagels
Why you should try this vegan smoked salmon made from carrots:
It is:
vegan
simply prepared
prepared without much effort
perfect in consistency
the perfect vegan alternative for smoked salmon
authentic in taste
grown-ups and the little ones love it
Also tastes good to non-vegans
More vegan alternatives to fish and meat dishes:
Vegan puff pastry filled with creamy mushroom sauce
If you try this vegan carrot lox without nori, I would be really happy about your feedback here in the comments. If you share your creation of this recipe on Instagram, please don't forget to link @velvetandvinegar and use the hashtag #velvetandvinegar. So my community and I will definitely not miss your contribution.
By subscribing to my newsletter , you also get access to my e-book and other freebies, as well as exclusive offers & content directly in your mailbox. I will also send you the latest recipes, personal insights and interesting tips and tricks on the topics of vegan nutrition and sustainability on a regular basis.
You can also contact me directly via the newsletter by simply replying to my emails. This enables me to respond more specifically to your questions and requests. I am happy to welcome you as part of my community!
Bye for now
Your Sarah
Veganer Lachs aus Karotten
Lust auf belegte Brötchen mit geräuchertem Lachs, aber du ernährst dich vegan? No problemo, denn mit diesem Rezept kannst du deine Gelüste auf geräucherten Lachs im Nullkommanichts stillen und das komplett ohne Tierleid. Wie das geht? Die Lösung heisst veganer Lachs aus Karotten. Geschmack und Konsistenz 100 % on point! Genau wie das Original. Vielleicht sogar noch einen Zacken besser. Der vegane Lachs lässt sich zudem ganz einfach und ohne grossen Aufwand zubereiten. Schmeckt Gross und Klein, sowie Vegan-Skeptikern.
Total Time
1
day
35
minutes
Ingredients
Veganer Karottenlachs
500

g

Karotten

Bio

1

TL

Salz

Bio

2

EL

Leinöl

Bio

2

EL

Flüssigrauch*

2

TL

Zitronensaft

Bio
Instructions
Karotten schälen und 15-20 Minuten dämpfen. Die Karotten sollten gar sein, jedoch nicht zu weich. Karotten abkühlen lassen.*

Karotten mit einem Sparschäler oder Messer vorsichtig in dünne Streifen schneiden.

Karottenstreifen mit den übrigen Zutaten vermengen und in einem wiederverschliessbaren Behälter mind. 24 Stunden, besser 2-3 Tage, im Kühlschrank marinieren. Behälter von Zeit zu Zeit umdrehen.
Recipe Notes
*Anstelle von Flüssigrauch kannst du auch Noriblätter verwenden. Je nach Grösse der Noriblätter variiert die Menge. 2-3 kleine Noriblätter sollten reichen.
*Du kannst die Karotten auch im Ofen schmoren, anstelle zu dämpfen.
Do you have a Pinterest account? Then you can find me here and of course pin this picture!