Celebrating Taco Tuesday differently with a taco pizza, how does that sound? This vegan pizza combines crispy, airy Italian pizza dough with the typical taco ingredients. Taco pizza is super easy to make and is perfect for using up leftovers from your last taco night with friends. Spicy, hot, hearty, this taco pizza is simply pure comfort food!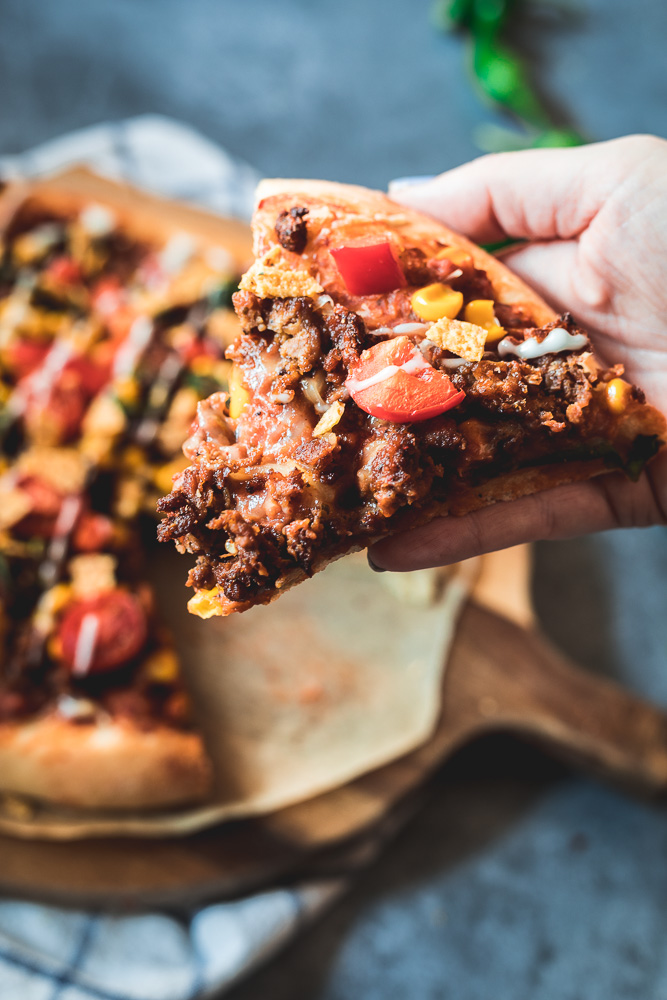 Taco meets pizza
As is well known, food trends are only very slowly spilling over to us in Switzerland. I would even say that everything comes at least a year late with us. So we definitely have some progress to work on compared to big cities like Berlin, It took ages here in Bern for a vegan restaurant scene to form at all. If one can call them such today at all. Vegan restaurants can be counted on one hand.
And if trends only come to us at a snail's pace, then it's up to us foodies to get them into circulation a little faster. That's why I'm bringing you the latest food trend today – directly from the States – to "sleepy" Switzerland 😁.
Pizza Hut meets Taco Bell. Not that we know much about Pizza Hut here, let alone Taco Bell, but I daresay you guys get the concept. The taco pizza is a classic Italian pizza with a Mexican taco topping. The toppings are basically the same ingredients you would put in a taco shell. And a new food trend was born! 🍕🌮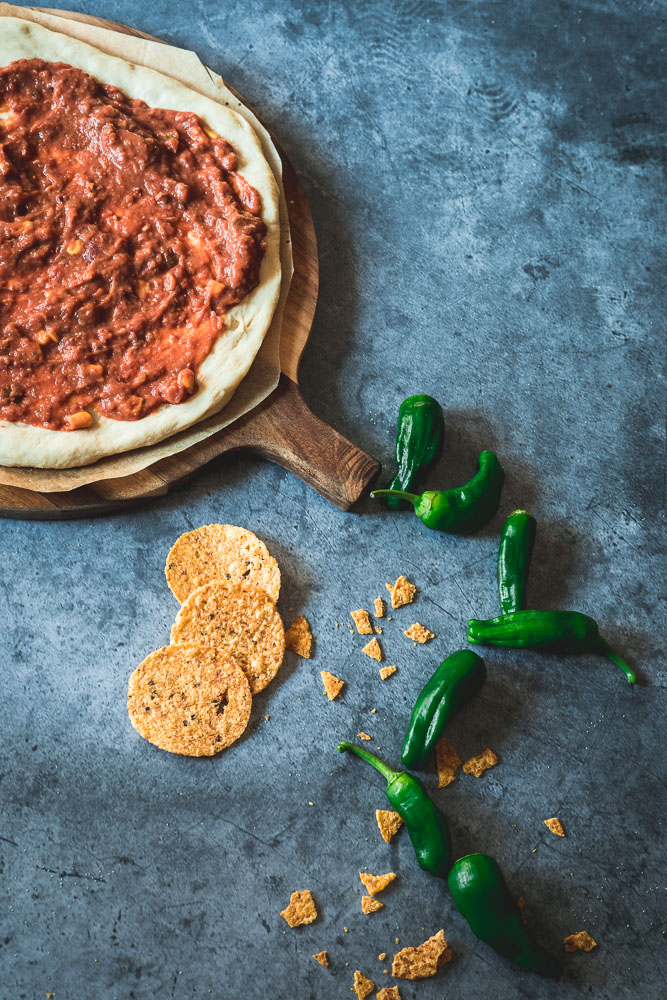 Vegan Taco Pizza
After the naan pizza – I slept through the hype in the best Swiss manner – comes the taco pizza. And dear Swiss, please take my text with humor, I'm just joking around. In general, my slightly ironic way of writing should not be taken too seriously. 😉
And today's taco pizza example is of course also completely vegan. You already know my style. And with today's selection of plant-based minced meat products, there are no longer any limits. But more on that shortly.
Taco pizza – who invented it?
Of course, the Americans – the fusion, so to speak, but not the individual dishes themselves, of course. But let's go into a little more detail. Taco pizza was invented by Joe Whitty of Joe's Pizza and Ice Cream Parlors in the '70s.
So actually, the taco pizza is not a new invention. But it's getting really hyped again. So much that Taco Bell is rumored to be bringing back taco pizza this year.
In any case, taco pizza is a combination of two things that you probably didn't even realize could be combined. Classic pizza dough is topped with taco sauce instead of tomato sauce. Served with spicy fried vegan mince and your favorite taco toppings.
This is how the vegan taco pizza works
For taco pizza, you'll need all of your favorite taco ingredients. There are no limits to your creativity. Typically, however, Mexican salsa, vegan mince, refried beans, and nacho chips would definitely go with it. Of course, a good taco seasoning would also be beneficial. However, you can mix it yourself with very few ingredients. How? I tell you in the recipe below! In addition, I pack a concentrated load of fresh vegetables in the form of sweetcorn, peppers, and tomatoes on the taco pizza.
What you should consider when choosing pizza dough:
If you want to make it easy for yourself or just don't have much time, a pack of ready-made pizza dough will do the trick. The taste experience is not the same at all. So I definitely advise you to make the pizza dough yourself.

The success of your pizza dough depends on a few factors. In principle, I recommend; "less is more". Therefore, I would work with a little less yeast here and give the dough more time. Ditto: 8 to 10g of yeast is enough, and you let the dough rise overnight for at least 8 hours. It can be put in the fridge for this. It is also important; Olive oil belongs in the Italian pizza dough and one of good quality.
Also, the pizza dough has to be actively kneaded so that the gluten can activate in the dough. Knead for 10 minutes is recommended. When the dough is no longer sticking to the mixer blade, that's a good sign. After the resting time, the dough is only briefly kneaded once or twice, and to shape, it is carefully pulled into shape and, in my opinion, not rolled out. To do this, place the dough in one hand and slowly pull it outwards from the middle. Like the pizzaiolos do in the restaurant.
For a really crispy and delicious pizza, it is best to bake it on a pizza stone or in a pizza oven at high temperatures and for only a short time. Exactly as stated in the recipe below.
Which flour do I use for the pizza dough?
Type 00 pizza flour would be ideal. This is a very finely ground white flour. However, since this type of flour is rarely found in organic quality – this is definitely my experience – regular white flour type 405 can also be used. I used the same flour in this recipe. And yes, for the best result in the world, white flour should really be used, so in case there were screams of horror and fainting spells.
Other than that, not much can go wrong as long as you stick to the recipe. And always remember to sear the vegan mince and season well.
Which vegan mince & is pizza dough vegan?
Two basic questions, which are absolutely justified, are asked to me over and over. So I would like to clear it up here and get rid of it once and for all. 😋
Is pizza dough vegan?
YES! And yes, I literally scream. How so? Because milk and eggs simply have no place in a classic pizza dough! I get crazy when I do see other things. Sure, artistic approach and all, but real pizza dough is just yeast, some sugar for the yeast, flour, salt, good quality olive oil, and water. That's it! You can do everything else, maybe get a slap for it from real Italians, and it's just not pizza per se anymore.
Therefore, I can say with great certainty that pizza dough should actually be vegan. Nevertheless, I recommend – if you actually want to buy the pizza dough – to take a quick look at the list of ingredients. Better safe than sorry. 😪
Which vegan mince?
Guys, this is completely your choice. Take the brand that tastes best to you. As you know, opinions differ. For this recipe, I used V-Love's vegan mince (bought myself). However, this is only available in Switzerland. The vegan mince from Beyond Meat is also conceivable. If you value "clean ingredients", you can make your own vegan mince.
Absolute insider tip: Because I really like you guys, I'll share my insider tip for a really crispy vegan mince with you. Take soy granules and fry them in the frying pan before you add water. Only then do you soak it in water.
Less waste tips
As always, here are a few smart tips to help prevent waste:
Pizza dough: it's best to just make the pizza dough yourself. You can find the ingredients for it – flour, salt, olive oil, and sugar in a bulk store. You can also get flour directly from your trusted mill. Apparently, you can make yeast yourself, but I've never tried it myself.
Salsa: Instead of the regular tomato sauce, the taco pizza uses Mexican salsa. Of course, you can make these yourself and get the fresh ingredients for it at the weekly market.
Refried Beans: the bean purée can easily be prepared at home. Take ingredients from the weekly market and bulk shop.

vegan mince:

you can also make the vegan mince yourself and save on packaging.

Taco Seasoning:

a recipe for homemade taco seasoning is below.

fresh ingredients:

you should find all fresh ingredients at the weekly market.

Sweetcorn & Jalapeños:

When not in season, you can use pickled sweetcorn and pickled jalapeños. If you want to save on packaging, you can pickle the sweetcorn and jalapeños yourself when they are in season.
vegan grated cheese : there are countless recipes for homemade vegan cheese, alternatively you can use this cheese sauce for the pizza.
Nacho chips: you can easily make them yourself by cutting tortillas into triangles and baking or deep-frying them in the oven until they are crispy. You can make the tortillas yourself.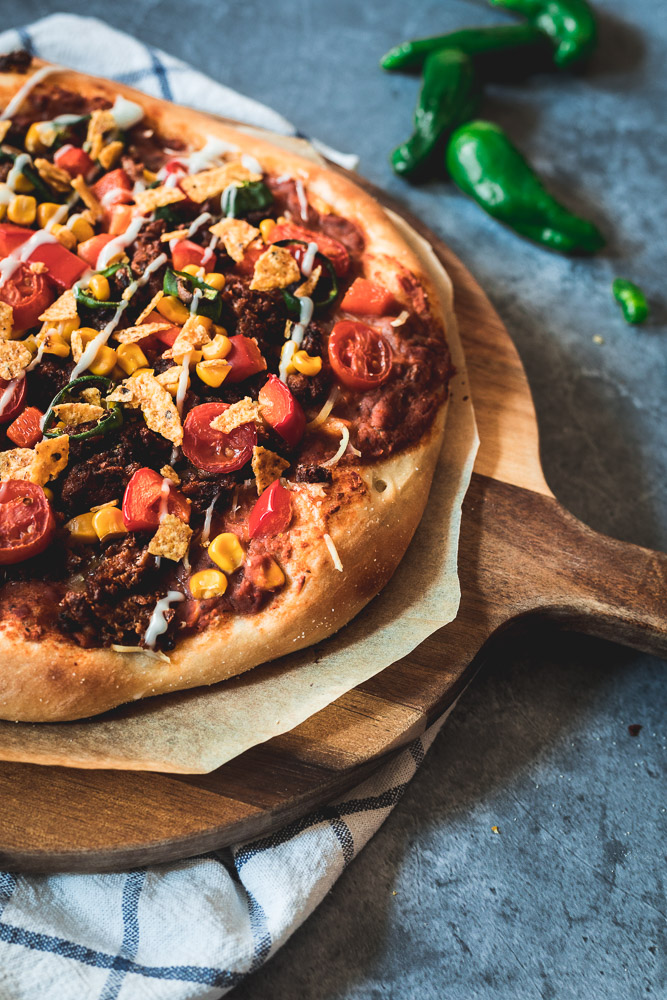 Alternatives to the products used
I don't have time to make my own pizza dough!
No problem! Then you just use store-bought pizza dough. Although, I'd like to add my two cents here: how about taking the time over a weekend to prepare the dough and then just freeze it? It just tastes so much better with homemade dough.
I don't eat white flour as a matter of principle, or I eat gluten-free, what now?
White flour simply has a massively bad reputation, which remains constant. Of course, we shouldn't eat only white flour. And yes, whole wheat flour is actually a better choice. But let's be honest, there are some things that don't taste so great when made with whole wheat flour. And that includes pizza, in my opinion!
But enough fussing about it. You don't want to use white flour, that's ok. However, I haven't tested this recipe with spelled flour or whole wheat flour, so I can't tell you if it works. From my experience, wholemeal flour requires more liquid and also has less sticky properties, but you are welcome to try it and let me know. Alternatively, you can buy a ready-made pizza dough with wholemeal flour.
If you eat gluten-free, you can simply use gluten-free pizza dough. I don't have a recipe for it up to my sleeve, but I'm sure you can find something online.
Can't find Refried Beans?
Then you can simply make your own bean purée from black beans. I linked a recipe for you above. Or you can just use regular kidney beans. You don't have to use the beans.
And if you don't like beans, just leave them out completely.
I can't buy vegan mince anywhere!
As mentioned above, you can also make vegan mince yourself. Or you can use soy granules. If you can't find all that, then I suggest you just crumble up tofu. Season it well and fry it with some soy sauce until it is hot and crispy.
Meal prep tips
Question of faith, but in my opinion, pizza should simply be freshly made. Per se, it would of course be possible to completely prepare the taco pizza and then freeze it. It would then go straight from the freezer to the oven. Did I try it? Nope! Because, as I said, credo: pizza has to be fresh.
It is also possible to prepare the pizza dough in advance. It keeps well in the fridge for 2 to 3 days. Freezing is also possible. So you can prepare larger amounts of pizza dough in advance and simply freeze the rest. It is best to portion the pizza dough right away.
What does the vegan taco pizza go with?
for a cozy pizza evening with friends or as a couple
for Taco Tuesday
as leftovers, if you still have leftovers from the last taco feast.
as party food
whenever you need comfort food
What do you eat with the taco pizza?
a crisp green salad
a cool beer or a fizzy cola
a glass of red wine
Why you should try this taco pizza:
It is:
vegan
simply prepared
really hearty
delicious comfort food
spicy
sharp if desired
grown-ups and the little ones love it
perfect for leftovers
More vegan pizza recipes:
If you try this vegan taco pizza, I'd really appreciate your feedback here in the comments and a 5 star rating. If you share your creation of this recipe on Instagram, please don't forget to link @velvetandvinegar and use the hashtag #velvetandvinegar. So my community and I will definitely not miss your contribution.
By subscribing to my newsletter, you also get access to my e-book and other freebies, as well as exclusive offers & content directly in your mailbox. I will also send you the latest recipes, personal insights, and interesting tips and tricks on the topics of vegan nutrition and sustainability on a regular basis.
You can also contact me directly via the newsletter by simply replying to my emails. This enables me to respond more specifically to your questions and requests. I am happy to welcome you as part of my community!
Bye for now
Your Sarah
Vegan Taco Pizza
Celebrating Taco Tuesday differently with a taco pizza, how does that sound? This vegan pizza combines crispy, airy Italian pizza dough with the typical taco ingredients. Taco pizza is super easy to make and is perfect for using up leftovers from your last taco night with friends. Spicy, hot, hearty, this taco pizza is simply pure comfort food!
Equipment
kitchen machine

pizza stone (optional)
Ingredients
Taco Spice Blend
2

tsp

onion powder

2

tsp

garlic powder

1

tsp

paprika powder

1

tsp

ground cumin

1

tsp

oregano
Pizza Dough
200

g

wheat flour

organic

1

tsp

cane sugar

organic

100-120

ml

water, lukewarm

10

g

yeast, fresh

organic

20

g

olive oil

organic
Taco Pizza
150

g

salsa

100

g

bean puree

2

tbsp

olive oil

organic

300

g

minced meat, vegan

organic

Taco seasoning

50

g

sweet corn

organic

½

red bell bell pepper

organic

50

g

grated cheese, vegan

organic

30

g

cherry tomatoes

organic

30

g

jalapeños or pimientos de padron

Nacho chips or taco shells
Instructions
Mix all ingredients for the pizza dough in a bowl. Knead dough with a food processor for 10 minutes until it no longer sticks to the dough hook.

Place dough in a bowl, covered, in the refrigerator overnight. The next morning, take out and let rise again at room temperature for 2 hours.

Preheat oven to 250° Celsius and preheat pizza stone in oven. *

Mix together all the ingredients for the taco seasoning.

Mix salsa and bean paste together.

Heat olive oil in skillet. Fry vegan ground beef in it until crispy. Mix in taco seasoning and set aside. *

Cut peppers, cherry tomatoes and jalapeños into desired shapes.

Knead the pizza dough again briefly. Then place on one hand and pull over that hand into desired shape, do not roll out.

Spread salsa and bean paste mixture on the bottom of the pizza. Top with vegan grated cheese and remaining toppings. *

Bake pizza in center of oven for 10 minutes. *

Add crumbled nacho chips on top of pizza while still warm.
Notes
*you can grease the pizza stone with some oil and sprinkle on some semolina to prevent your pizza from sticking.
*you can use up all the taco spice blend for this recipe.
*add the nacho chips after baking.
*if your pizza is burning, bake it on a lower rack.
Nutrition
Calories:
2002
kcal
|
Carbohydrates:
245
g
|
Protein:
88
g
|
Fat:
76
g
|
Saturated Fat:
12
g
|
Polyunsaturated Fat:
15
g
|
Monounsaturated Fat:
39
g
|
Trans Fat:
1
g
|
Sodium:
3445
mg
|
Potassium:
1861
mg
|
Fiber:
35
g
|
Sugar:
24
g
|
Vitamin A:
4312
IU
|
Vitamin C:
125
mg
|
Calcium:
237
mg
|
Iron:
31
mg
Do you have a Pinterest account? Then you can find me here and of course pin this picture!